For this week's theme for our Virtual Book Club for Kids, we are focusing on Love, Hearts and Valentine's which falls this week too. These simple activities are ideal for your preschooler and you to do together to have fun, create, play and learn whilst encouraging a love of books through our featured books and other recommended reading. Towards the end of this plan you will find more additional heart, Valentine and love themed ideas as well as other teacher recommended preschool picture books ideal to read this week too. So here we go our Valentine and Love Themed Week for Preschoolers.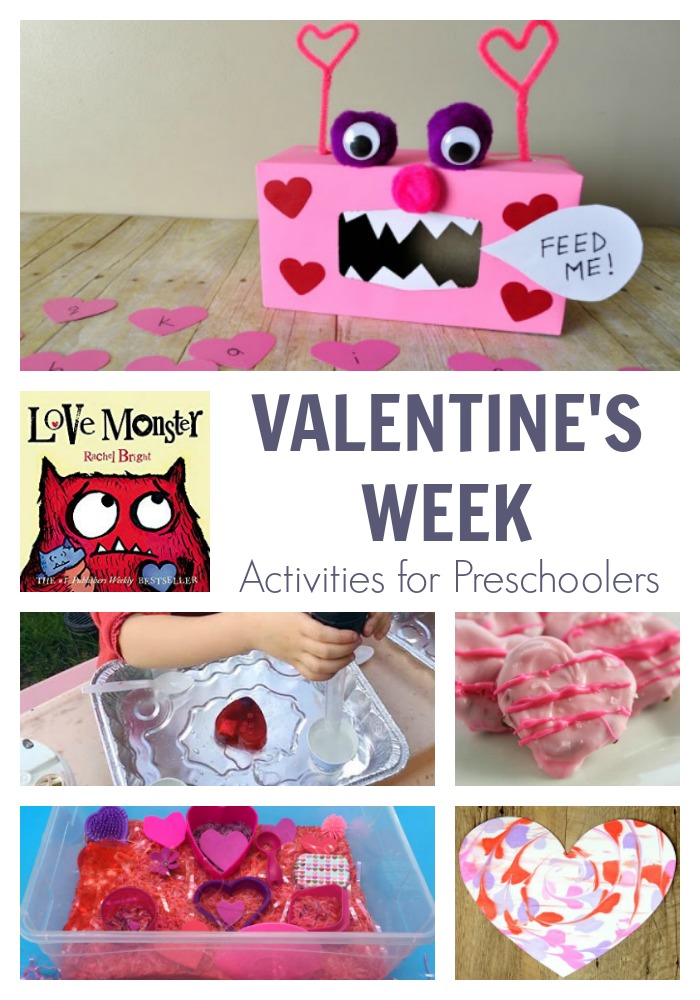 Virtual Book Club for Kids Featured Book Love Monster
We have included Amazon links to the books we recommend. If you purchase via the books we may earn a small commission.
This week's teacher recommended featured book is
Love Monster
by Rachel Bright. In this story the "Monster" from the story is different from everyone else in his world. He tries to find someone similar and hunts to find the one to love.
This story is great to read to encourage children not to give up and to continue to search and do what they wanting to achieve. We love the illustrations and it's great to work on some language skills as the monster hunts for someone to love.
Weekly Virtual Book Club Plans
Get ideas for activities, crafts and recipes based on popular themes and featured books straight to your inbox each week to inspire you to connect and create with your children
Love and Valentine Activities for Preschoolers
Each week here at The Virtual Book Club for Kids we recommend 5 simple and easy activities to do with your preschoolers which focus on 5 key areas. They encourage play, creativity and hands-on learning.
Whether you decide to do just one of the activities in a week or all 5 the plan is up to you. Don't forget that if you would like to get similar plan straight to your inbox then you can sign up for our weekly newsletter above and a link to the week's activity plan will be delivered straight to your inbox on a Friday before the week begins.
We don't plan your week but if you would like a little more structure then the image below is one of our suggestions for how we have structured the week with our preschoolers at home and in our settings.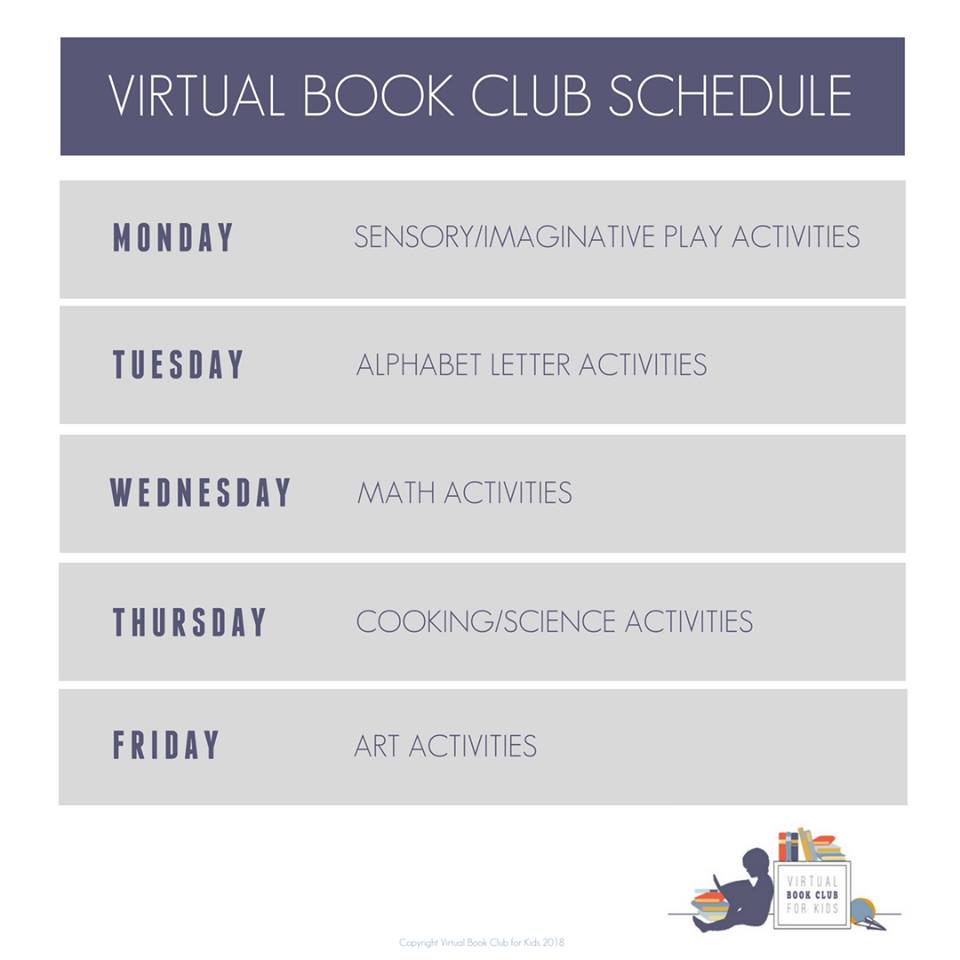 Sensory Activity for Love Week
This week's sensory activity is a red and pink themed sensory bin that you can keep up all week.
If you don't wish to use coloured rice in the bin then instead you could add more of the other fillers.
Love Monster Alphabet Activity for Preschoolers
We're feeding the Love Monster this week with this fun alphabet activity for Valentine's week with your preschooler.
You can adapt this easily to the ability of your child.
Maybe you are working on upper and lower case letters in which case find the pair and feed the monster.
Or beginning sounds – i.e. "Find the letter that Monster begins with".
Valentine Themed Math Activity
Getting active and learning at the same time is great for preschoolers and our heart themed math activity this week is easy to set up and works on counting and number recognition.
Love Snacks and Science
A bit of a bonus this week a fun science activity and a snack that you and the kids can make.
The science is some Frozen Heart Ice Excavation perfect if you have cold temperatures and have been following our plans this winter.
And a delicious snack with these Easy Heart Shaped Pretzel Snacks.
Love Art and Craft for Preschoolers
In our annual summer camp last year we featured an easy way to marble it was one of the most popular activities in the Art Week.
So here we have a simple Love Themed Marbeling Activity that you and your preschooler will love.
Create the hearts and then why not use them to make some Valentine Cards and send to loved ones and friends this week too.
More Love Themed Books for Preschoolers
Whether you can't find our featured book or wish to add more books to your reading box or bag this week these 3 extra books are great to read with your preschoolers too.
[one_third_first]
[/one_third_first][one_third]
[/one_third][one_third_last]
[/one_third_last]
Guess How Much I Love You by Sam McBratney
The Day it Rained Hearts by Felicia Bond
Happy Valentine's Day Mouse by Laura Numeroff
More Love and Valentine Themed Activities for Preschoolers
If you would like more activities to do with your little one this week then check out our Valentine Week Pin Board for even more ideas that are perfect for playing, creating, learning and having fun with your preschooler.
[thrive_text_block color="purple" headline="Join Us Next Week for The Virtual Book Club for Kids"]
Next week theme is Pets and we will be focusing on our favourite pet Pete the Cat. Featuring the book
Pete the Cat and his Four Groovy Buttons by Eric Litwin
[/thrive_text_block]