This week we are learning about another culture and one of their important festivals throughout the year. It's Ramadan, we have a beautiful picture book as well as some songs to listen to and simple, easy and fun activities for you and your preschooler to enjoy. So here is this week's plan from the Virtual Book Club for Kids for the Book Ramadan by Hannah Eliot and Ramadan activities to do.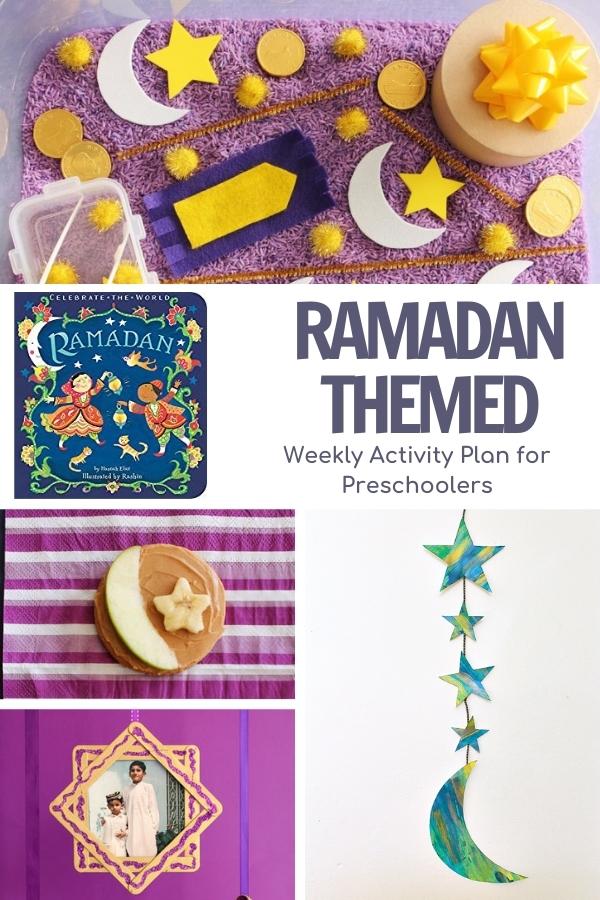 Find Your Activity Plan Here
Ramadan by Hannah Eliot The Virtual Book Club for Kids Featured Book
We have included links to the books on Amazon. As an associate, we may earn from qualifying purchases.
This week's featured book from the Virtual Book Club for kids is Ramadan by Hannah Eliot a easy to read board book that shares the different aspects of Ramadan and what happens within the family and for children especially.
Here's the book being read aloud for you and your preschooler to watch and share.
Weekly Virtual Book Club Plans
Get ideas for activities, crafts and recipes based on popular themes and featured books straight to your inbox each week to inspire you to connect and create with your children
Ramadan Songs and Rhymes for Preschoolers
We've included some songs and rhymes for Ramadan for you and your preschool to listen to and enjoy.
Ramadan is here!
Ramadan Song
Learn About Ramadan Song
Ramadan Week Activity Plan
Each week we try and give a simple structure you and your preschool can follow. It's a simple activity a day to sit and spend time learning, playing, and creating together.
Of course, you don't have to follow this plan - you could if you wish dedicate a day each week and do the activities below just on that day.
Once Upon a Ramadan by D.N. Hockey and Ramadan Week Activity Plan for Preschoolers
A simple week of activities for preschoolers to learn more about Ramadan featuring the book Once Upon a Ramadan by DN Hockey
Ramadan Activities on Pinterest
If you are looking for more ideas you can follow our Ramadan Pinterest board below which has other ideas and we will add to it as we discover more.
More Ramadan Books for Preschoolers
Whether you can't find our featured book or looking for others here are 3 other books about Ramadan that we think you and your preschool will enjoy.
Night of the Moon by Hena Khan
Under the Ramadan Moon by Sylvia Whitman
Rashad's Ramadan and Eid al-Fitr by Lisa Bullard