Are your school kids home for summer? Are you wondering what to do with them? The Virtual Book Club for Kids has a special Summer Camp just for you and we would love you to join in plus it will help with those "I'm bored!" moments! For 3 weeks, we have themed activities that you can do at home with them. Here are some of our book suggestions for this year.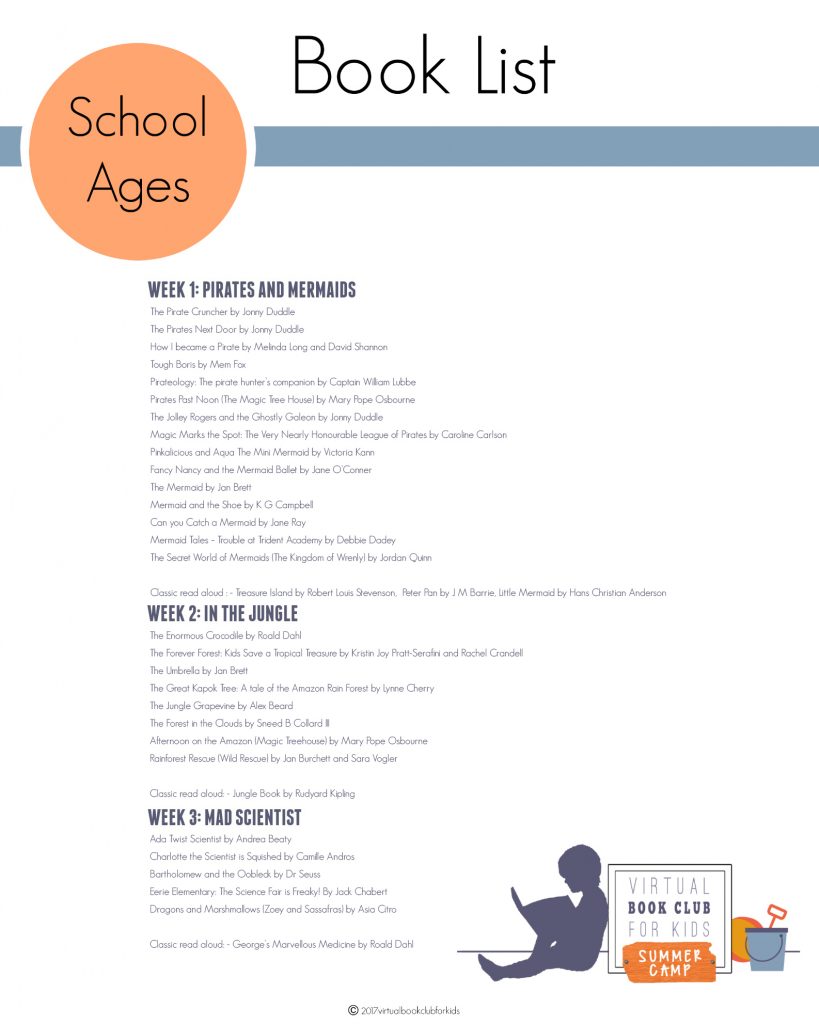 This year's themes are Pirates and Mermaids, Jungle and Mad Scientists. Each week will be theme based and the activities based on the theme, not a specific book so any of the books from our list will be suitable.
With the school kids list, there is a range of picture books, non-fiction, chapter books and also classics which you could read together. Use these suggestions and others that you may have in your own collections to create and connect this summer.
HOW DO I GET MY BOOKS? Use your local library, local bookstore, or order them online to join along for summer camp!  We've linked them all up to Amazon with a referral link for easy shopping.
Want to join our Summer Camp to get the exclusive CAMP ACTIVITIES?  JOIN HERE for 19.99 
School Kids Book List for Summer Camp
Disclosure: This post contains affiliate links to Amazon.  
Pirate and Mermaid Theme
The Pirate Cruncher by Jonny Duddle
The Pirates Next Door by Jonny Duddle
How I became a Pirate by Melinda Long and David Shannon
Tough Boris by Mem Fox
Pirateology: The pirate hunter's companion by Captain William Lubbe
Pirates Past Noon (The Magic Tree House) by Mary Pope Osbourne
The Jolley Rogers and the Ghostly Galeon by Jonny Duddle
Magic Marks the Spot: The Very Nearly Honourable League of Pirates by Caroline Carlson
Pinkalicious and Aqua The Mini Mermaid by Victoria Kann
Fancy Nancy and the Mermaid Ballet by Jane O'Conner
The Mermaid by Jan Brett
Mermaid and the Shoe by K G Campbell
Can you Catch a Mermaid by Jane Ray
Mermaid Tales – Trouble at Trident Academy by Debbie Dadey
The Secret World of Mermaids (The Kingdom of Wrenly) by Jordan Quinn
Classic read aloud: -
Treasure Island by Robert Louis Stevenson
Peter Pan by J M Barrie
Little Mermaid by Hans Christian Anderson

Jungle Theme
The Enormous Crocodile by Roald Dahl
The Forever Forest: Kids Save a Tropical Treasure by Kristin Joy Pratt-Serafini and Rachel Crandell
The Umbrella by Jan Brett
The Great Kapok Tree: A tale of the Amazon Rain Forest by Lynne Cherry
The Jungle Grapevine by Alex Beard
The Forest in the Clouds by Sneed B Collard III
Afternoon on the Amazon (Magic Treehouse) by Mary Pope Osbourne
Rainforest Rescue (Wild Rescue) by Jan Burchett and Sara Vogler
Classic read aloud: -
Jungle Book by Rudyard Kipling
Mad Scientist Theme
For the Mad Scientist week we have a mix of Chemistry, Physics, Biology and Earth Sciences so the suggested books are based around "Scientists" more than on a specific area of science.
Ada Twist Scientist by Andrea Beaty
Charlotte the Scientist is Squished by Camille Andros
Bartholomew and the Oobleck by Dr Seuss
Eerie Elementary: The Science Fair is Freaky! By Jack Chabert
Dragons and Marshmallows (Zoey and Sassafras) by Asia Citro
Classic read aloud: -
George's Marvellous Medicine by Roald Dahl
If you need any additional information or book suggestions please tag Cerys our School Kids Camp Specialist in the Virtual Book Club for Kids Summer Camp Facebook Group who will be happy to help.

CLICK HERE to Print the Summer Camp Book List for School Kids