The spring equinox falls this week and we can finally say that spring is in the air. Because of this for this week's Virtual Book Club for Kids theme we have chosen spring flowers. Our featured book is Lola Plants a Garden and is a fun read aloud for you and your preschoolers as you talk about flowers, seeds and plants with them. Don't forget to join our facebook group and newsletter so you can get these themed plans straight to your inbox and connect with other parents following along with our weekly Virtual Book Club for Kids. So here we go this week's preschool plan for spring flowers to have fun, read, learn, play and create together.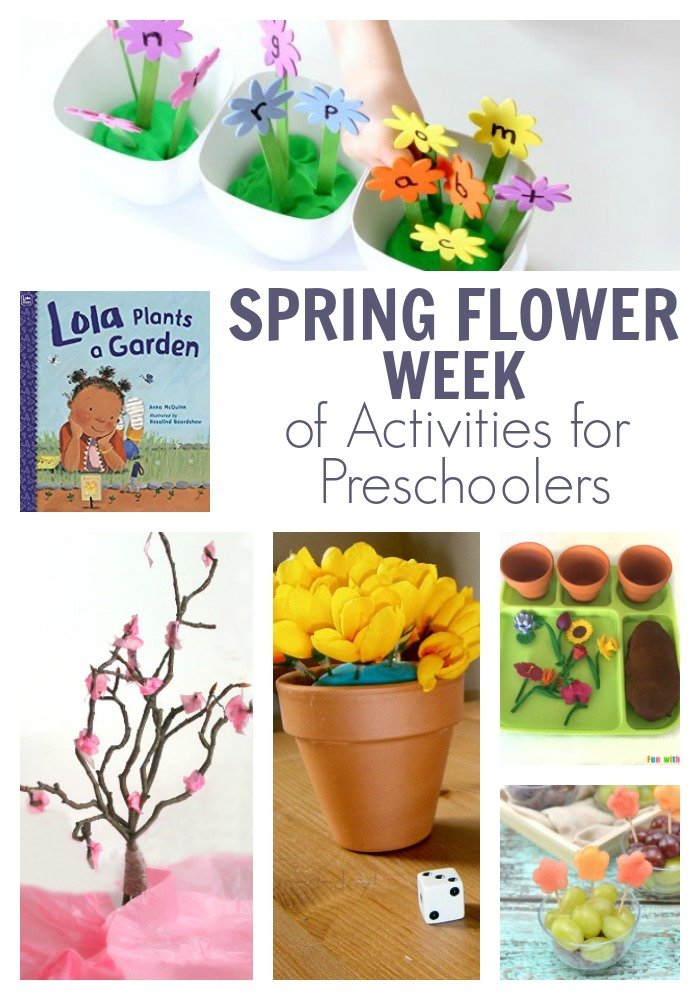 Virtual Book Club for Kids Featured Book Lola Plants a Garden
We have included Amazon links to the books we recommend. If you purchase via the books we may earn a small commission.
Our featured book this week for the Virtual Book Club for Kids is Lola Plants a Garden by Anna McQuinn. In this lovely story, Lola and her Mommy decide to grow a garden. The story walks you through the process as Lola grows her own garden resulting in a collection of flowers that can inspire you and your preschoolers to grow your own.
We particularly like how Lola and her Mommy include lots of different activities in their planting and gardening.
Spring is the ideal time to start to grow your own garden and you don't need a lot of space to do it. Bulbs and smaller flowers can be grown on a window sill in some light, a container on a balcony or patio can be filled with flower seeds or if you have space you can give a section of your own garden for your preschooler to grow. It's a bit longer than a week to do the activity but the rewards are fantastic and just like Lola you and your preschooler may be inspired.
Weekly Virtual Book Club Plans
Get ideas for activities, crafts and recipes based on popular themes and featured books straight to your inbox each week to inspire you to connect and create with your children
Spring Flower Activities for Preschoolers
This week we are focusing on spring flowers inspired by the garden that Lola has grown. From Cherry Blossom to tulips and daffodils there are lots of flowers that are typical of spring and we are using them as inspiration for this week's theme.
We've selected 5 simple and easy to do at home activities for you and your preschooler to pick from. Whether you pick 1 activity to do this week or you choose to do all 5 (or more!) it is up to you. Below you will find additional activities in our Pinterest Board for Spring Flowers as well as an idea of a structure for the week that one of our team uses with their own kids at home.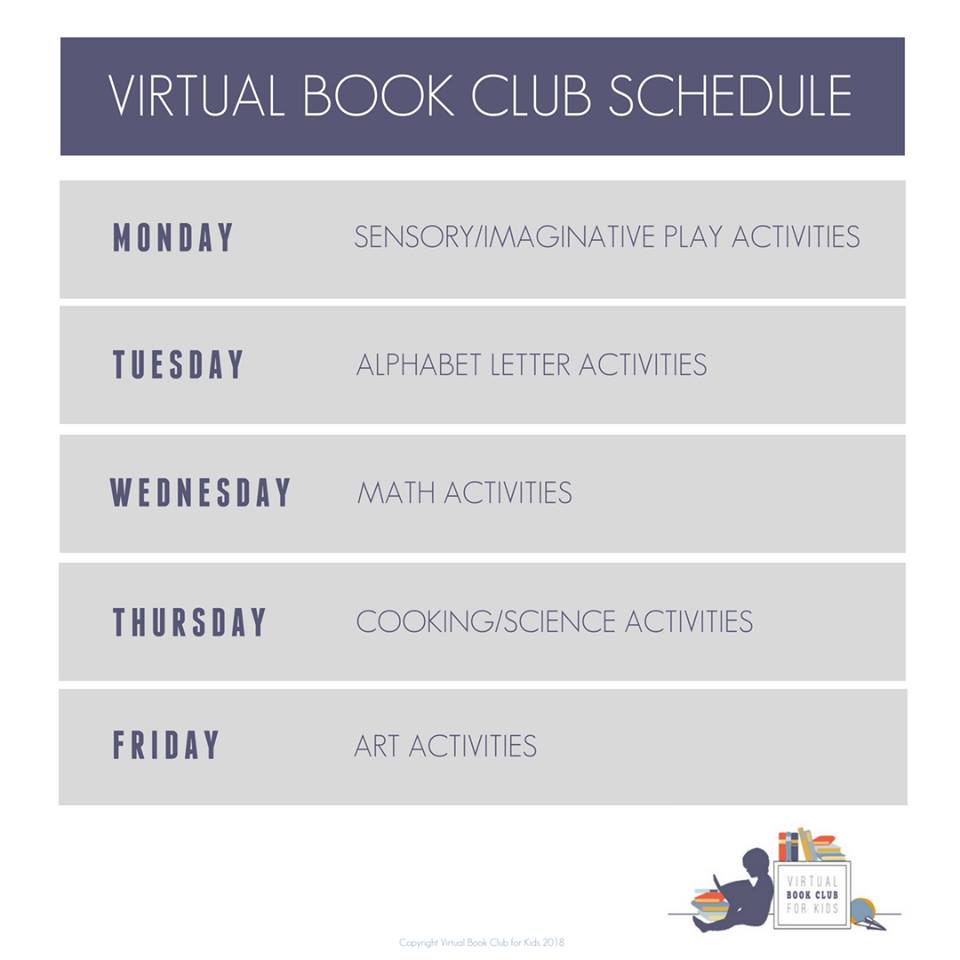 Spring Flower Sensory Play Idea for Preschoolers
Our sensory play activity this week for you and your preschoolers is a simple Spring Flower Planting Activity with Playdough.
We found lots of spring flowers in the Easter crafting section of the hobby store this week and have been using them with playdough to create our own version at home. With older kids, the cards are a great idea but we do prefer to keep this more open-ended and let our preschoolers create their own flower pot arrangements.
Alphabet Activity for Spring Flowers with Preschoolers
With a little bit of craft foam, you can turn our Spring Flower Sensory activity this week into one to learn letters and if your child is read start to read words.
This Spring Flower Alphabet Planting Activity is great to do and you and your little one can use it to match their ability.
Spring Flower Math Game for Preschoolers
Keeping with the same equipment and just using it in a different way our math activity this week is a spring flower math game.
We love when no extra materials are needed just using them in different ways it makes it much simpler to set up at home and do with your children.
Delicious Spring Flower Snack to make with your Preschoolers
Choosing a snack or recipe this week was hard there were so many cute ideas however, we think you and your preschoolers will love our fruit flower snack idea.
If you don't then check out the Pinterest Board below for more ideas for snacks that you and your preschooler could enjoy.
Spring Flower Art and Craft Activity for Preschoolers
One of the most beautiful sights is the cherry trees filled with blossom in spring and for our art activity this week we have picked a sensory art activity.
This one is great to create a spring flower structure with your preschoolers inspired by Cherry Blossom.
More Spring Flower Books for Preschoolers
Whether you can't find our featured book this week or like to add a few more themed books to your book basket here are a few more spring flower books that we recommend for preschoolers.
[one_third_first]
[/one_third_first][one_third]
[/one_third][one_third_last]
[/one_third_last]
Flower Garden by Eve Bunting
The Reason for a Flower by Ruth Heller
Planting a Rainbow by Lois Ehlert
More Spring Flower Activities for Preschoolers
If you would like to switch activities or do more we have a Spring Flower Themed Pinterest board full of ideas for you and your little ones to enjoy. Check it out below and don't forget to follow our Pinterest account for even more hands-on activities for your preschooler to play, create and learn.
[thrive_text_block color="purple" headline="Join Us Next Week for the Virtual Book Club for Kids"]
Next week's theme for the Virtual Book Club for Kids is Spring Animals and we are featuring Sheep in a Jeep by Nancy Shaw.
[/thrive_text_block]
More Spring Themed Plans for Preschoolers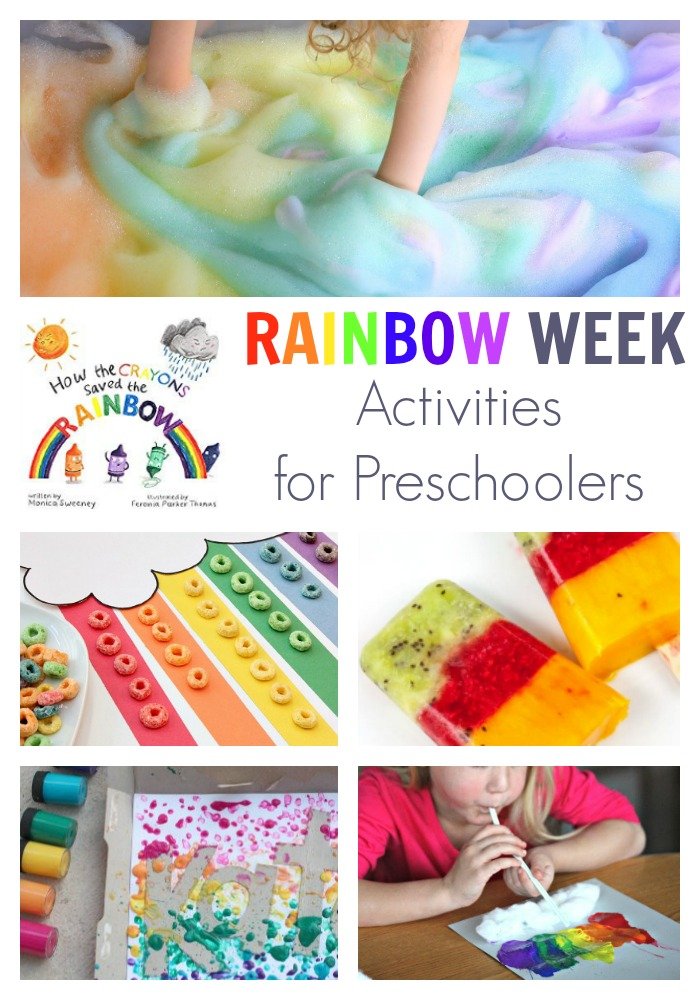 Rainbows are such a fun theme for preschoolers why not check out our Rainbow week Plan and for more spring themed ideas for you and your preschoolers.