Each month Virtual Book Club for Kids selects a new author to feature. You can find the full list of featured authors for 2014-2015 on our recent Virtual Book Club for Kids Announcement post.
This January we are featuring the talented Ellen Stoll Walsh!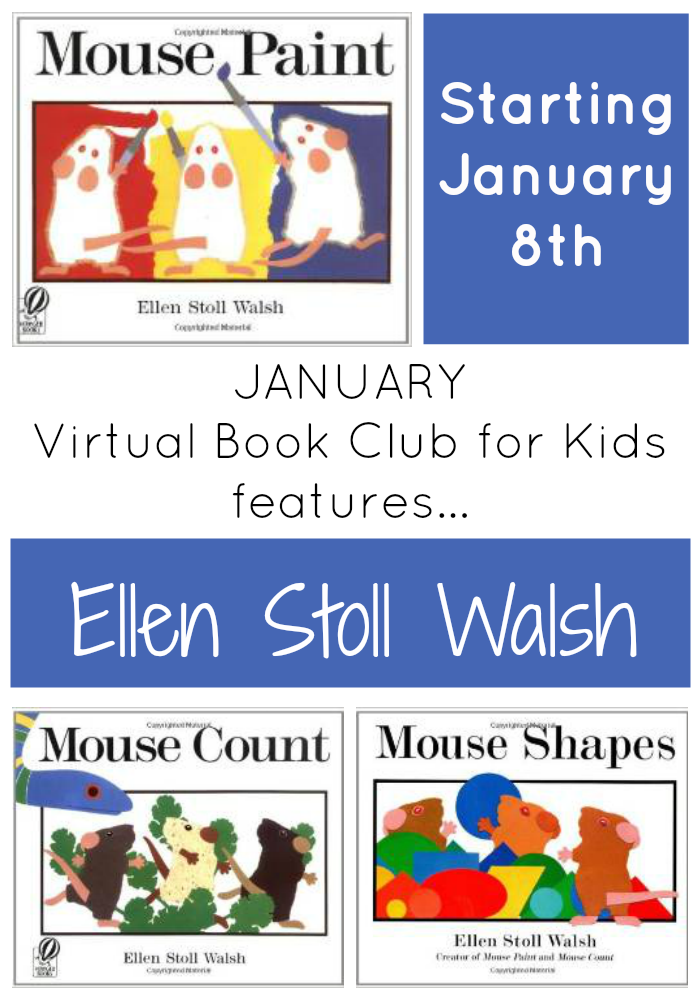 This post contains affiliate links.
For Virtual Book Club for Kids we selected three of our favorite Ellen Stoll Walsh books to spotlight this month!
Our featured books for January include: Mouse Count
, Mouse Paint
 and Mouse Shapes
.
Have you read any of these books yet?
Mouse Count
Ellen Stoll Walsh introduces the concept of counting forward and backward in a suspenseful story that will keep young readers guessing what's next. 

Mouse Paint
One day three white mice discover three jars of paint--red, blue, and yellow.  This lighthearted presentation of a lesson in color is fun for all ages.  Plus Walsh's cut-paper collage illustrations have bold colors and yet quite simple for all to enjoy.

Mouse Shapes
What can you make with one oval, two circles, and eight triangles? Just ask three clever mice--who even find a funny way to trick a sneaky cat.

Have you decided which books(s) you'll be reading in January?
If you are interested in joining Virtual Book Club for Kids this January, here's what you need to do…
Add the Virtual Book Club for Kids dates to your calendar and start reserving or finding your books!
Pick at least one book to read with your child this month.
Do a book inspired craft or activity after you read the book.
Come stop by on the second Thursday of the month and tell us what you did here in the comments or over on our Virtual Book Club for Kids Facebook page!
We hope many of you will join in with us!
For the full list of all of the featured authors and books make sure to consult our Virtual Book Club for Kids 2014-2015 announcement post. Feel free to join our Pinterest boards too and find loads of other children's book inspired activities.

I am so excited that we are kicking off the month with Ellen Stoll Walsh! Let me know in the comments if you'll be joining in with us this month!
to get the latest updates for each author and selected activities for FREE!