In celebration of Dr Seuss Day and Read Across America, we are having a Wacky Week here at the Virtual Book Club for Kids. Featuring Wacky Wednesday by Dr Seuss we have 5 fun, simple and easy activities for you and your preschoolers to do whilst we go a little bit crazy. Having fun as you read, play, create and learn is the best way to build a strong foundation for a love of learning with your child so go ahead and be a little mad this week. Don't forget to scroll down and visit our Dr Seuss Pinterest board as well as check out our other recommend Dr Seuss books for preschoolers and you to read together.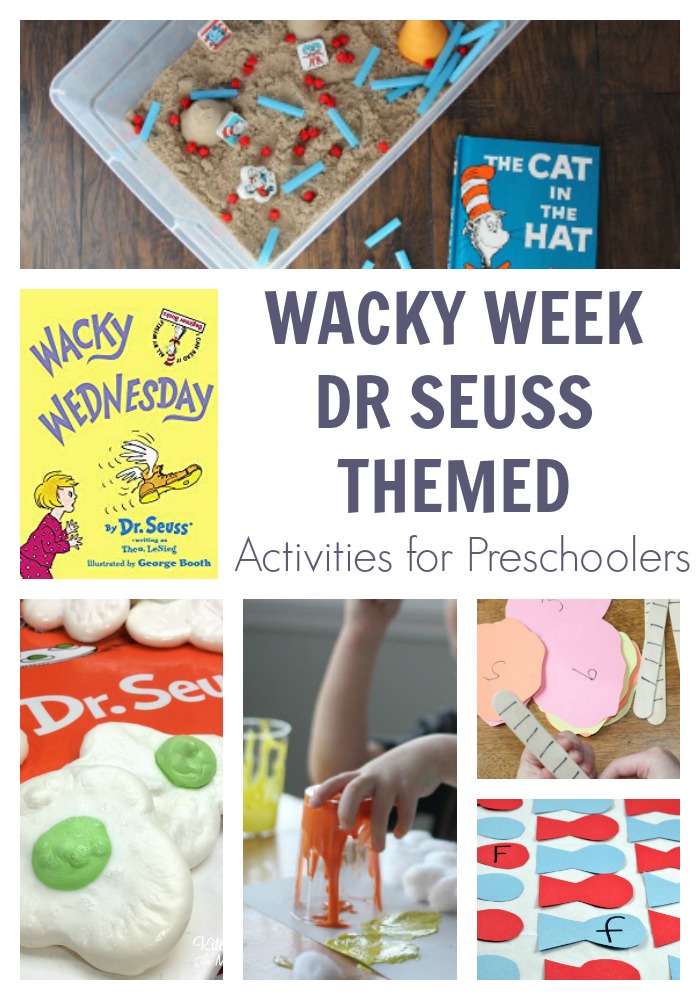 Find Your Activity Plan Here
Virtual Book Club for Kids Featured Book Wacky Wednesday by Dr Seuss
We have included Amazon links to the books we recommend. If you purchase via the books we may earn a small commission.
This week's featured book for preschoolers is
Wacky Wednesday
by Dr Seuss. With funny rhymes and get iSpy finds for each page you can have fun reading this classic Dr Seuss book together.
It's a slightly longer book and you can extend it by looking for the strange things on each page so if your preschooler isn't one to sit and read together them split it up into smaller sections and read it over the week.
Weekly Virtual Book Club Plans
Get ideas for activities, crafts and recipes based on popular themes and featured books straight to your inbox each week to inspire you to connect and create with your children
Dr Seuss Themed Activities for a Week of Wacky Fun with your Preschoolers
This week although we recommend Wacky Wednesday as our featured book this week we are featuring activities based around many of the Dr Seuss Books - you could of course read each of the books connected with the activity or find them to watch as well as an extension of the day's activities.
With the weekly plan we have 5 simple activities that you can choose from. Some of our community do an activity per day, others choose to do just 1 in the week. Some of the members of the Virtual Book Club for Kids Facebook Group also hold a weekly play date where they do their favourite activities all at once.
This weekly plan is just one idea - having the sensory activity first it means that it is possible to have it set up for the week ahead and your children can return to it time and time again to play.
If however, you want more preschool activities for the theme or featured book then scroll down further and you will find a link to our Dr Seuss Pinterest Board which is full of hands-on fun ways to learn, create and play.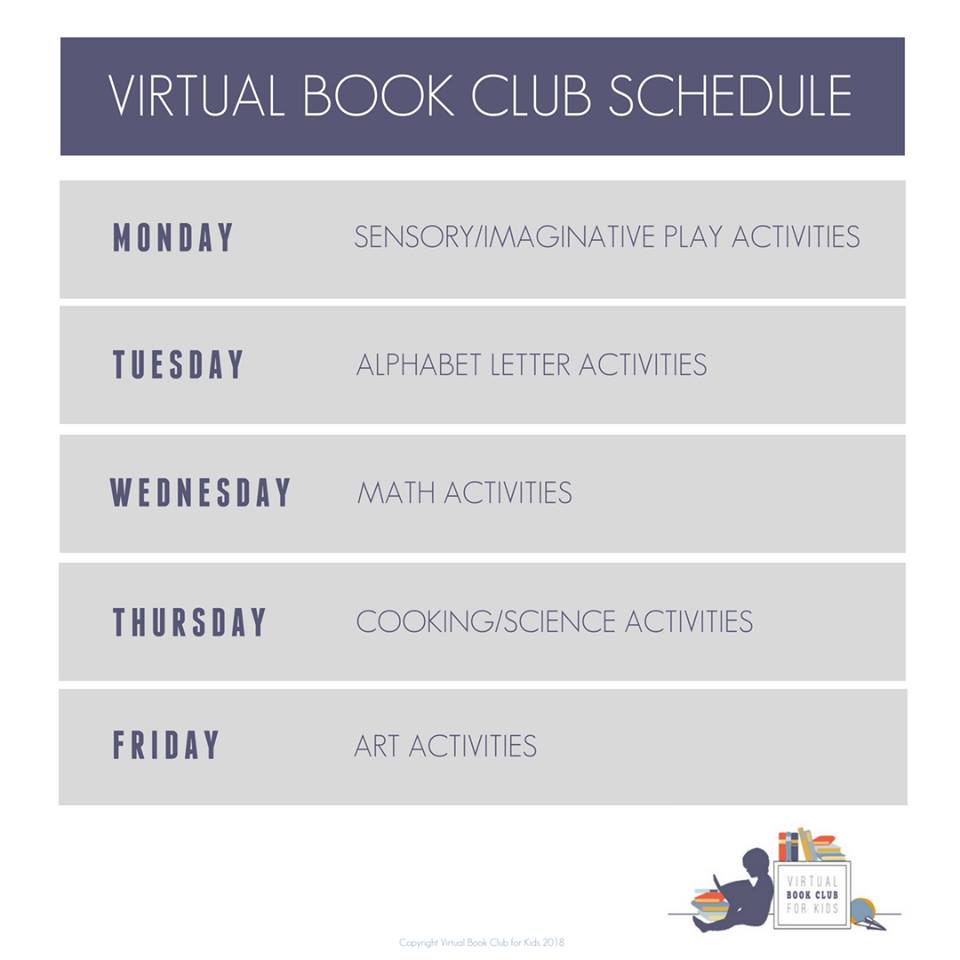 Dr Seuss Cat in the Hat Sensory Activity for Preschoolers
This fun Kinetic Sand Sensory Bin inspired by Cat in the Hat is a fun Sensory play activity for our Wacky Week here on the Virtual Book Club for Kids.
Set it up and bring it out throughout the week for your preschooler to play with. You could even change up the contents and include objects to represent different Dr Seuss books each day if you want.
One Fish Two Fish Dr Seuss Book Alphabet Activity for Preschoolers
Match up the alphabet in this One Fish Two Fish Alphabet Matching Game for your preschoolers.
You can use this same idea for more area of learning - how about colour words and spots, numbers and number names objects and their beginning sounds.
Use the idea and adapt it to your little one's interests.
Dr Seuss Truffala Tree Math Activity
Counting and number recognition are this week's math activity with our Truffala Tree Math Activity for Preschoolers.
A really simple DIY activity for your preschoolers to work on counting and number work.
Green Eggs and Ham Recipe for Dr Seuss Week
Another favourite book for Dr Seuss week is Green Eggs and Ham and these cookies are fun to make.
They do take a little time so if you don't fancy them remember to check out the Dr Seuss Pinterest board for other snack and recipe ideas to do with your preschooler instead.
Wacky Wednesday Art Activity for Preschoolers
Our last activity is Wacky Painting for our Wacky Week with Dr Seuss.
This is fun and different a great way to explore art and painting with your preschooler without brushes in sight.
More Dr Seuss Books Recommended for Preschoolers
Whether you want to switch out the Wacky Wednesday Book this week or add a few more Dr Seuss books to read there are lots to choose from and which are the best to read with preschoolers. We've selected our 3 favourites that our team recommends for you.
[one_third_first]
[/one_third_first][one_third]
[/one_third][one_third_last]
[/one_third_last]
More Dr Seuss Inspired Activities
As promised we have collected together even more fun activities for you and your preschoolers to enjoy. Head on over to our Dr Seuss Pinterest Board for more ideas (don't forget to check out the other boards we have as we have been collecting together ideas all year!)
[thrive_text_block color="purple" headline="Join Us Next Week for the Virtual Book Club for Kids"]
Next week's theme for the Virtual Book Club for Kids is Rainbows and our featured book is How the Crayons Saved the Rainbow by Monica Sweeney.
[/thrive_text_block]