We're excited that the  Virtual Book Club for Kids is featuring Author Ellen Stoll Walsh in January.  Our Virtual Book Club Participants have come up creative ideas for 3 of her books that will keep your kids active and having fun all month long.  Take a peek below at our 12 activities inspired by some very special mice that Ellen Stoll Walsh created. Click on the links to discover each activity and the directions to follow.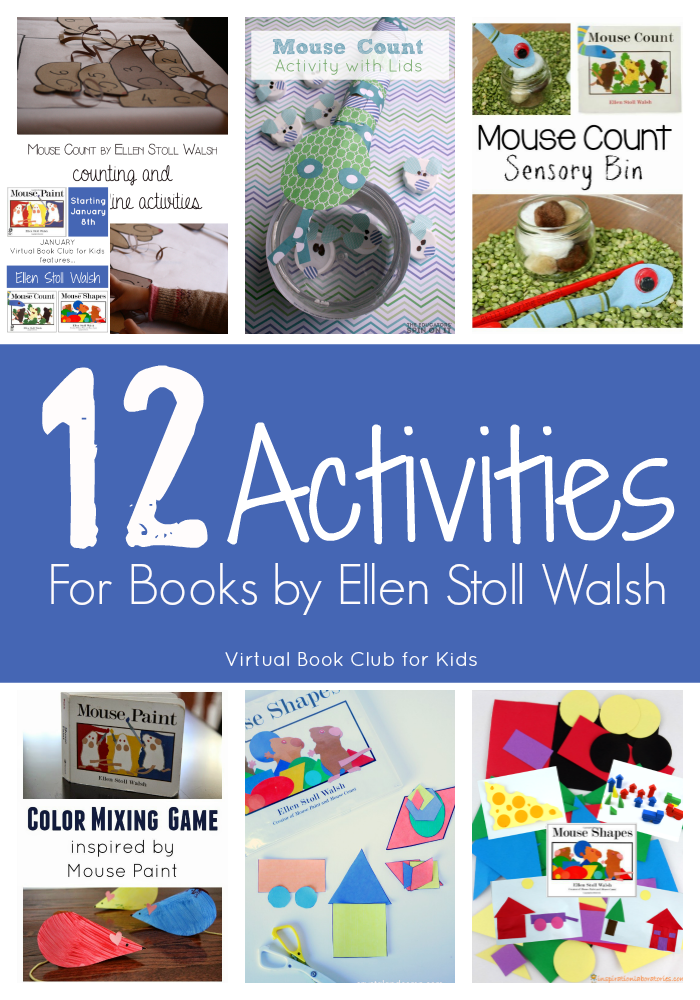 Find Your Activity Plan Here
Mouse Activities Inspired by Author Ellen Stoll Walsh
Mouse Paint Activities
Mouse Shapes Activities 
 Mouse Count Activities 
Which book are you going to read First?  
Mouse Paint
One day three white mice discover three jars of paint--red, blue, and yellow.  This lighthearted presentation of a lesson in color is fun for all ages.  Plus Walsh's cut-paper collage illustrations have bold colors and yet quite simple for all to enjoy.

Mouse Paint Activities
Our 12 Virtual Book Club Contributors have created quite a few playful and bright activities to go with books by Ellen Stoll Walsh.  Click on the images below to see how to create with your child or class.
This post contains affiliate links to amazon 
Color Book by Playdough to Playto
Surprise Color Mixing Heart Craft by Toddler Approved
Color Mixing with Mouse Paint by 3 Dinosaurs
Mouse Shapes
What can you make with one oval, two circles, and eight triangles? Just ask three clever mice--who even find a funny way to trick a sneaky cat.

Mouse Shapes Activities
Mouse Shapes Learn to Spell Your Name by Growing Book by Book
Shape Collages Inspired by Mouse Shape by Inspiration Laboratories
Mouse Shape Puppets by The Pleasantest Thing
Shape Activities for Kids by Crystal and Co.
Mouse Count
Ellen Stoll Walsh introduces the concept of counting forward and backward in a suspenseful story that will keep young readers guessing what's next. 

Mouse Count Activities
Mouse Count Relay Game by Lalymom
Mouse Count Numbers and Number LInes by Rainy Day Mum
Mouse Count Sensory Bin by Still Playing School
Mouse Count Activity with Lids by The Educators' Spin On It
Share your Ideas with the Virtual Book Club for Kids Facebook Community
Come stop by and tell us what you did over on our Virtual Book Club for Kids Facebook page OR here in the comments.  We'd love for you to share your photos too!

 NEXT MONTH IS DR. SEUSS ON FEBRUARY 12!