Our first theme for the 2022-2023 Virtual Book Club for Kids is Alphabet. We have chosen our featured book Chicka Chicka Boom Boom by Bill Martin Jr and John Archambault but we like to provide a fun selection of books that you could add to your book box as well for the week.
So here we have our favorite parent and teacher picked alphabet books for toddlers and preschoolers to read alongside Chicka Chicka Boom Boom.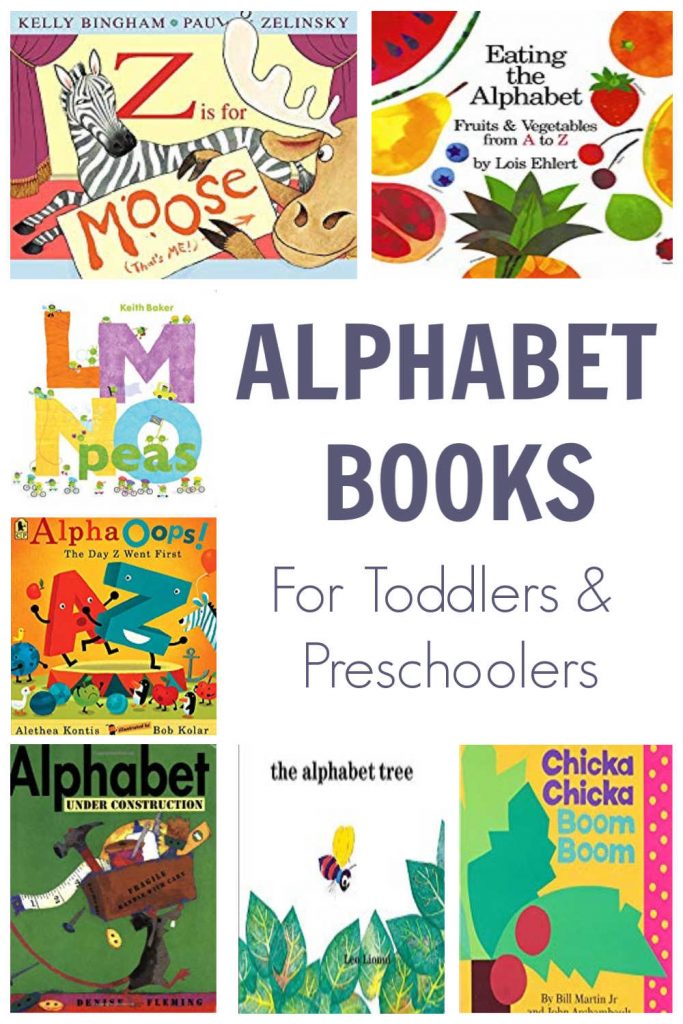 Find Your Activity Plan Here
Favorite Alphabet Books for Toddlers and Preschoolers
We have included links to the books on Amazon. As an associate, we may earn from qualifying purchases.
Chicka Chicka Boom Boom
Our featured book for the alphabet week is Chicka Chicka Boom Boom by Bill Martin Jr and John Archambault and illustrated by Lois Elhert. We love how colorful it is and all of the letters that are included in the tale.
It's such a fun way to go through the alphabet with your toddler and preschooler and help them start to learn the letters and letter sounds.
Take a look at our Chicka Chicka Boom Boom Weekly Plan.
LMNO Peas (The Peas Series)
LMNO Peas by Keith Baker is a fun book that looks at the careers, hobbies and interests people have by going through the alphabet and sharing these will pea illustrations from an Acrobat Pea to a Zoologist Pea you and your preschooler can have a lot of fun going through the alphabet and finding things that they may like to do.
Alphaoops!: The Day Z Went First
What would happen if the alphabet decided to step out and do it their own way? In Alphaoops!: The Day Z Went First by Aletha Kontis and illustrated by Bob Kolar we find out. And it's chaos! But, so much fun. Each letter has its own personality and unlike a traditional ABC book as everything is out of order you can't help but wonder does it help your little one learn the alphabet a little more.
Alphabet Under Construction
In Alphabet Under Construction by Denise Fleming, the little mouse in the story constructs the alphabet. Airbrushing the letter a, buttoning b, carving c etc... all the way through to Z. It's a simple book but toddlers and young preschoolers will love watching the little mouse in action throughout the book.
Grab our Alphabet Under Construction Weekly Plan!
The Alphabet Tree
When the wind threatens the letters in the alphabet tree they must band together to prove that they are stronger than the wind. In this delightful story The Alphabet Tree by Leo Lionni, your older preschoolers will enjoy seeing the letters come together to make words and the words to sentences showing the power of the written word and how mighty it is against the wind.
The Alphabet Mystery
Poor little x feels left out he's the only one that is hardly ever used so in The Alphabet Mystery by Audrey and Bruce Wood he decides to run away from home. The other lower case letters head off to find him and so unfold the mystery. This is a fantastic book for preschoolers to read to look and learn the lower case alphabet in more detail.
Eating the Alphabet
Featuring both upper and lower case letters as well as fruits and vegetables from around the world Eating the Alphabet by Lois Ehlert is a great way to introduce the alphabet to your toddler and preschoolers. You can also focus on the food and at the back of the book you will find a glossary where you can learn more about the fruits and vegetables featured in the book.
Z is for Moose
When the two friend Zebra and Moose decide to put on an alphabet play Moose get's a little impatient for M to appear... and then M isn't for Moose as he expects and everything goes a little topsy-turvey with the annoyed moose. Z is for Moose by Kelly Bingham and illustrated by Paul O. Zelinsky is funny and unpredictable a great read for you and your preschooler to enjoy.
Alphablock (An Abrams Block Book)
Alphablock by Christmas Franceschelli is a board book with a difference. In between the normal pages you can find each letter cut out on a page. Behind it, the scene reveals the letter e.g. G is for the garden. This would be a lovely book to accompany you and your preschooler if you are learning letters each week or to refer to regularly as you support them learning the alphabet.
Weekly Virtual Book Club Plans
Get ideas for activities, crafts and recipes based on popular themes and featured books straight to your inbox each week to inspire you to connect and create with your children
Don't forget if you want the activities for this theme and others to come straight to your inbox to then do and share with your toddler and preschooler at home you need to sign up for our Virtual Book Club for Kids newsletter.