The following post is by Kristina of Toddler Approved. This post contains Amazon affiliate links.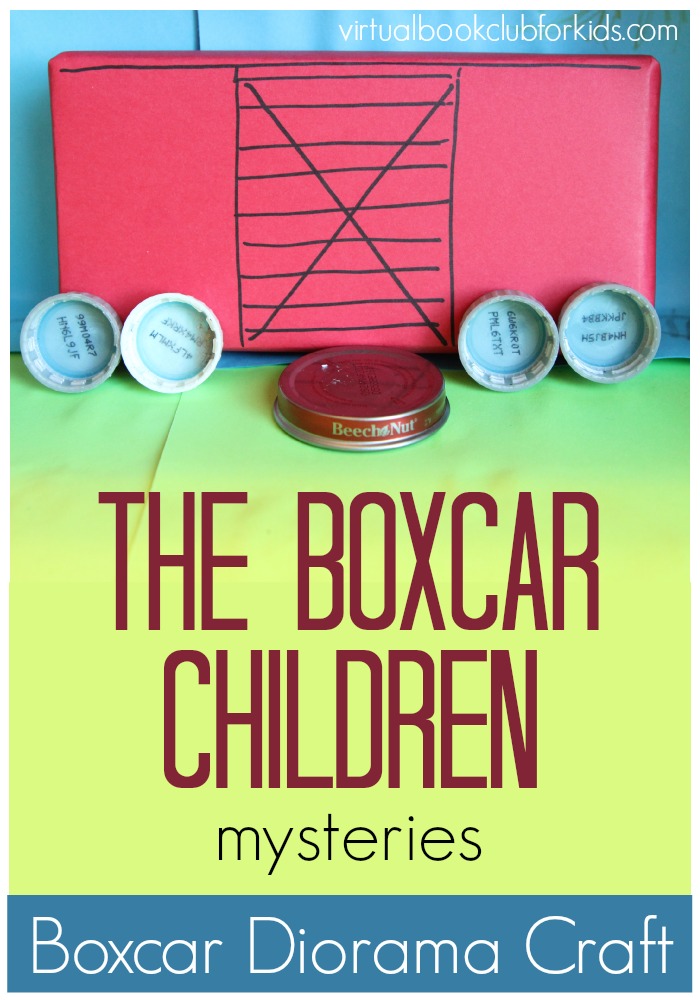 Last week we announced our new Virtual Chapter Book Club for Kids! In October the Virtual Chapter Book Club will be featuring mysteries! One of the chapter book series that we chose to spotlight are The Boxcar Children Mysteries
 by Gertrude Chandler Warner.
This month we will share how we created a Boxcar Diorama craft to go along with the book! Scroll down for the supplies and full tutorial.
As part of our Virtual Chapter Book Club, each month each participating blogger will spotlight a series or a specific book from a series and share a book related craft or activity that goes along with the series. We will be featuring these posts in the linky below as well as on our pinterest board and Facebook page.
I loved the The Boxcar Children Mysteries
 by Gertrude Chandler Warner growing up, so I was excited to introduce them to my children this month! We started with Book 1 and will read as many books as we can throughout October. There are over 100 books in the Boxcar Children series.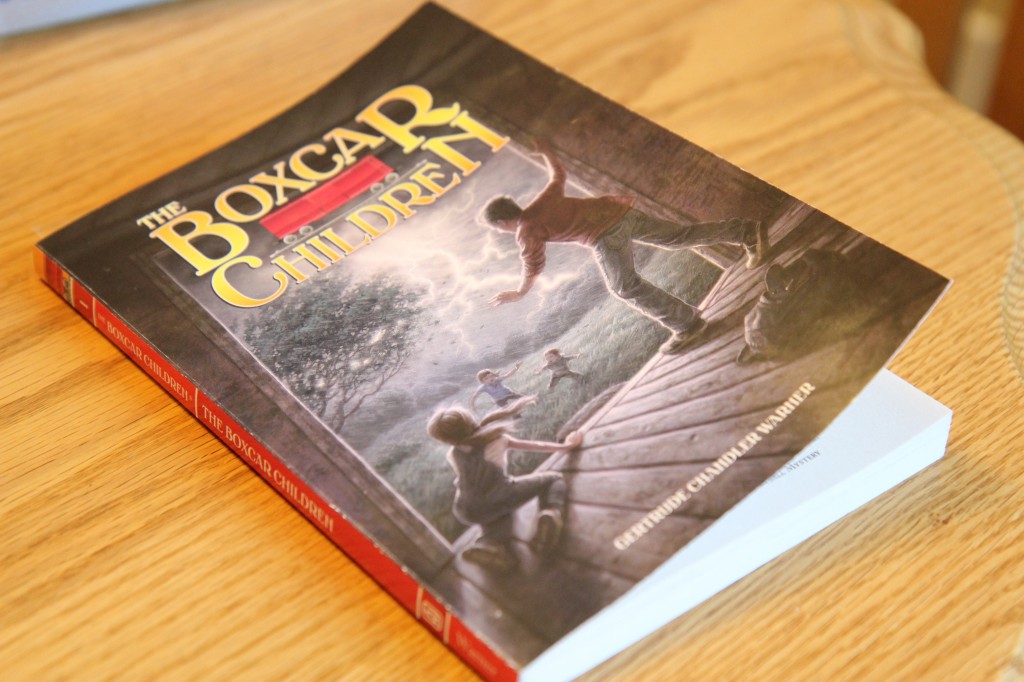 The Boxcar Children series  begins by introducing the four Boxcar children- Henry, Jessie, Violet, and Benny Alden. Over the course of the first book the orphaned children find themselves a new home and a new grandfather. Our favorite part of the first book is when the children discover the abandoned boxcar during a storm and decide to make it their new home!
As we read the The Boxcar Children and discussed the story and setting details we decided to create our own boxcar *diorama scene! The diorama was fun to add to as we read more of the book.
*A diorama is a 3-D scene in which in which figures, stuffed wildlife, or other objects are arranged in a naturalistic setting against a background.
Supplies: shoebox, glue, colored construction paper, small pasta box, tape, bottle caps, crayons and any other embellishments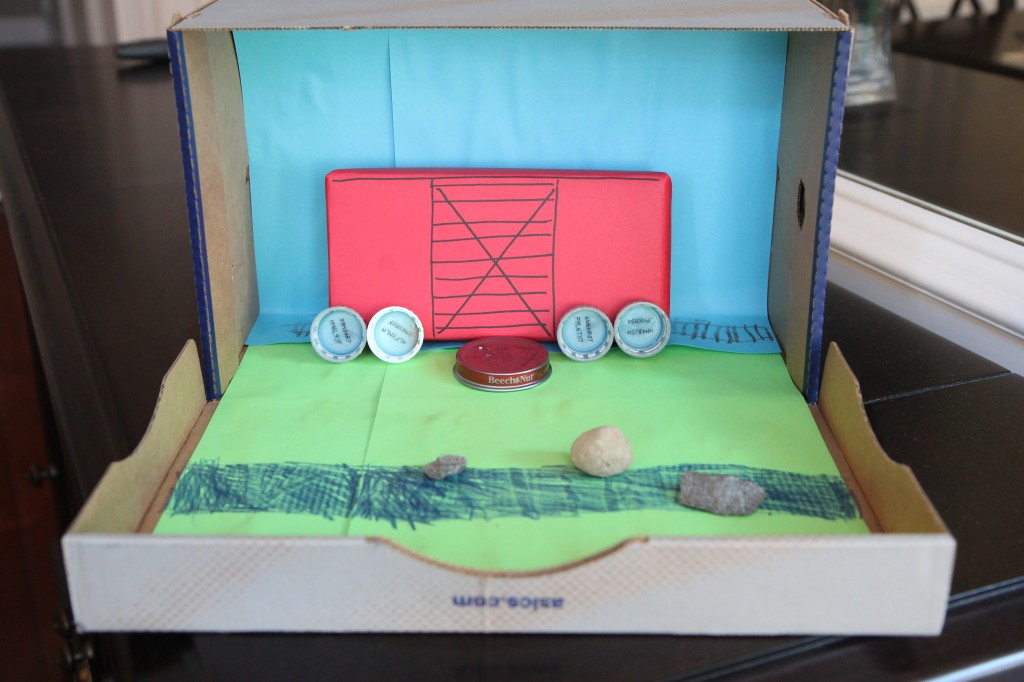 To create the diorama we started by glueing paper for the grass and sky into the shoebox.
Next we added train tracks with crayon and we created a boxcar using a pasta box, tape, paper, and some bottle caps.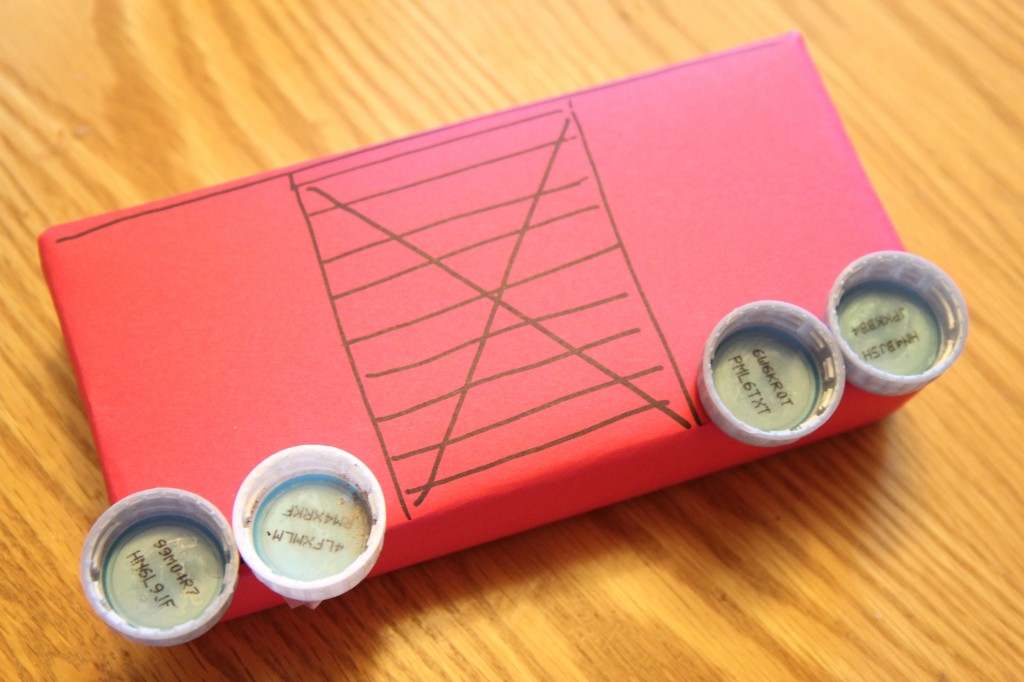 We left the boxcar unattached so that we could move it around. We also added a lid "stump" in front of the boxcar so that the children could climb into the car.
The last thing we created was the little brook that ran right in front of the boxcar. The kids went outside on a rock hunt and then returned and drew a brook and added some loose rocks to the water.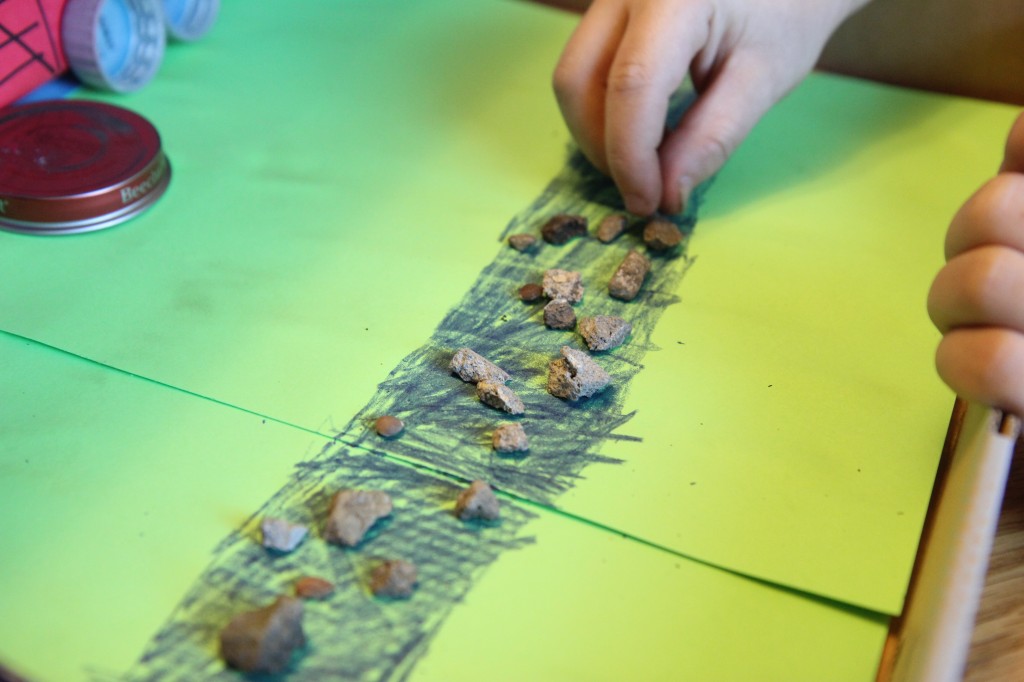 As we continue to read more of the Boxcar Children's adventures we plan to change and add to our diorama. We may also make some little puppet children to move around so that they can help us retell the story.
Have you read The Boxcar Children Mysteries
? Which book is your favorite in the series?
Some of our other favorite mystery themed chapter book series include...
Cam Jansen Book Series
 by David A. Adler
Encyclopedia Brown Series by Donald J. Sobel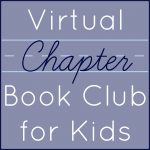 Make sure to check out the link up below to find some more mystery themed chapter books and activities/crafts. If you have any activity/craft to share inspired by a mystery chapter book, come link up!
Here are our Virtual Chapter Book Club Participating Bloggers this month:
The Educators' Spin On It
Mom to 2 Posh Lil Divas
Play Dr Mom
Coffee Cups and Crayons
KC Edventures with Kids
Kitchen Counter Chronicles
If you want to get our Virtual Book Club for Kids Newsletter, you can sign up here. The first issue will be sent out soon!
Don't forget to follow Virtual Book Club for Kids on Pinterest too! Just click on the image below.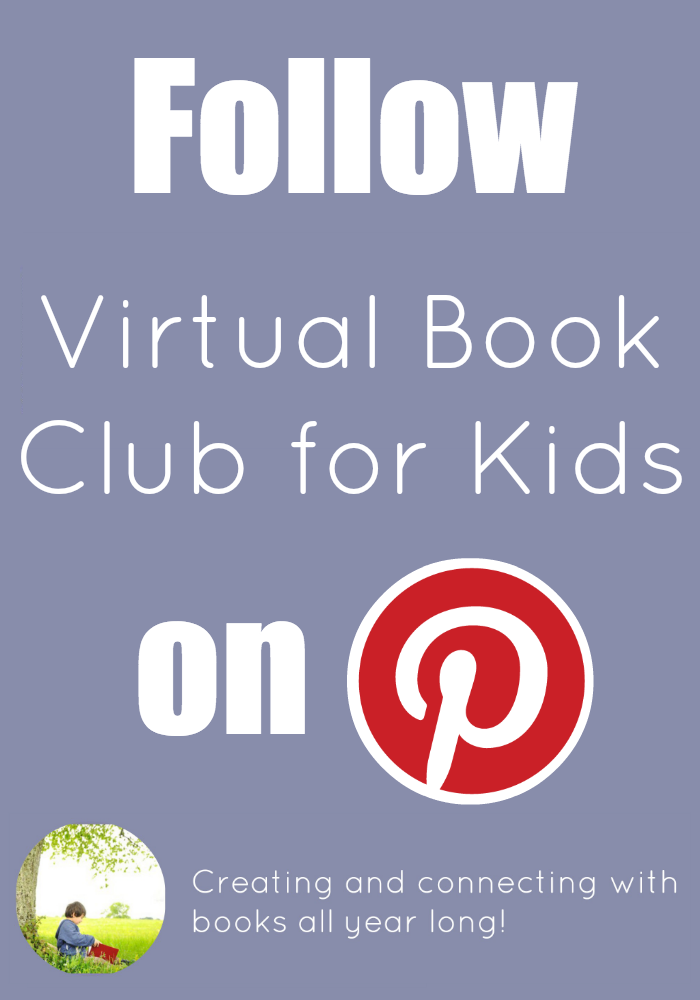 Kristina is the author of Toddler Approved and founder of the Virtual Book Club for Kids. She is a mom of three and is a former Special Education teacher. When she's not blogging, you'll find Kristina jogging around town, organizing church and neighborhood social events, throwing crafting parties for kids, and traveling with her family. Kristina tweets as @ToddlerApproved and can be found on Facebook and Pinterest.