Join Our Virtual Book Club for Kids Books for 2015-2016
Calling all parents and teachers!  We are thrilled to announce of 2015-2016 Book List for the Virtual Book Club for Kids.  For our 4th year we are featuring some of our favorite classic books that we feel all homes and schools should have on their bookshelves.  Come join the fun!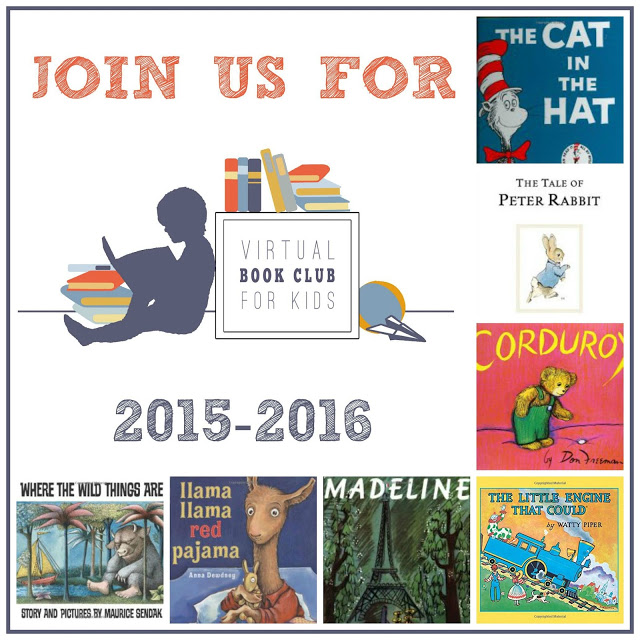 Here is our Book List for 2015-2016:
Each month we will feature book inspired activities on our blogs on the 1st day of the month (unless otherwise noted).
September- Where the Wild Things Are by Maurice Sendak
October- Llama Llama Red Pajama by Anna Dewdney
November- Madeline by Ludwig Bemelmans (featured on November 2nd)
December- No Virtual Book Club this month
January- The Little Engine That Could by Watty Piper
February- The Cat in the Hat by Dr. Seuss
March- The Tales of Peter Rabbit by Beatrix Potter
April- Corduroy by Don Freeman
May- Goldilocks and the 3 Dinosaurs by Mo Willems (featured on May 2nd)
June- The Rainbow Fish by Marcus Pfister
July- Pinkalicious by Victoria Kann
August- Brown Bear Brown Bear by Bill Martin Jr.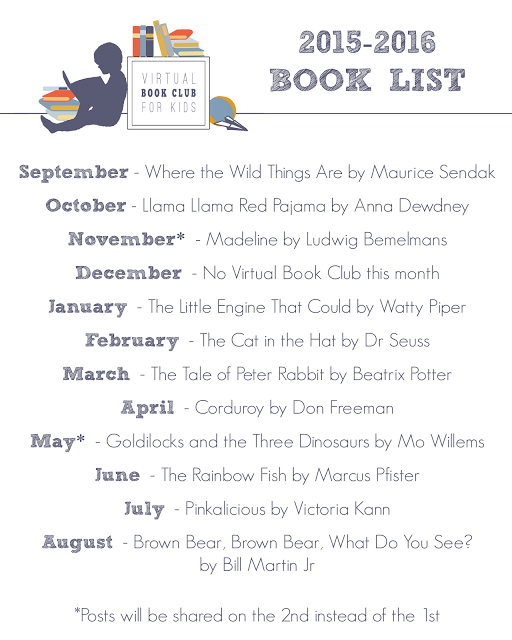 You can DOWNLOAD a FREE printable 2015-2016 book list here 
How to participate in Virtual Book Club for Kids:
1. Start by locating the book for the month and read it with your child sometime during that month! Leave a comment on this post committing to join in all year long!
Most of the books we are featuring can be found at your local library. I have provided Amazon Affiliate links for your ease as well if you want to purchase the books and add them to your home library.
We will be sharing all of the featured activities over on our 
Virtual Book Club for Kids Facebook Page
 so that they are easy for you to find. If you haven't "Liked" our Facebook page yet you might want to go follow along so you don't miss the activities. I will also be linking to each activity here on the 1st of each month.
3. Post a photo or tell us about a featured book-inspired activity you did with your child using the featured book on our Virtual Book Club for Kids Facebook Page or in the comments here on the blog.
5. (Optional) Create your own Mommy and Me Book Club featuring the Virtual Book Club Books.
Get together with friends and read the book each month and then do book-inspired activities together. Find more details about creating a Mommy and Me Book Club HERE.
If you would like to get to know the other Virtual Book Club for Kids co-hosts for 2015-2016 just click on the links to their blogs below to learn more about them! Their sites are great preschool and toddler learning resources!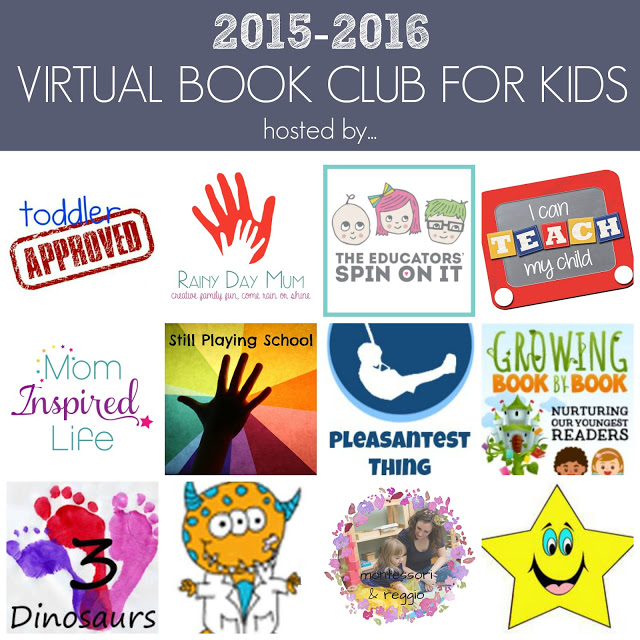 Virtual Book Club for Kids Hosting Bloggers
Featured Activities based on Books
Each month all 14 of these talented bloggers will be share activities for you to do with the featured books.  They will share ideas for the following submit area
Join us this summer for 3 weeks of awesome fun!
Alphabet
Name Activity
Numbers
Sensory
Cooking
Science
Colors
Pre-Writing
Movement
Shapes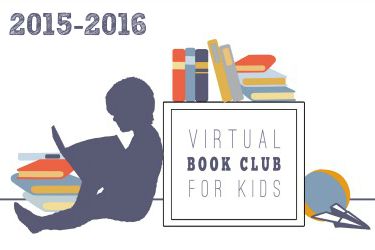 Looking for more book lists and book themed activities ?