One of our favourite themes for spring is getting out in the garden and exploring plants and seeds. We have hand-picked these fabulous plant and seed books which are ideal to read together with your toddlers and preschoolers at this time of the year. Why not read them and join our spring camp or follow this up with a week of spring flower fun with your little ones. So here we go our hand-picked preschooler and toddler books on the theme of plants and seeds for you all to enjoy.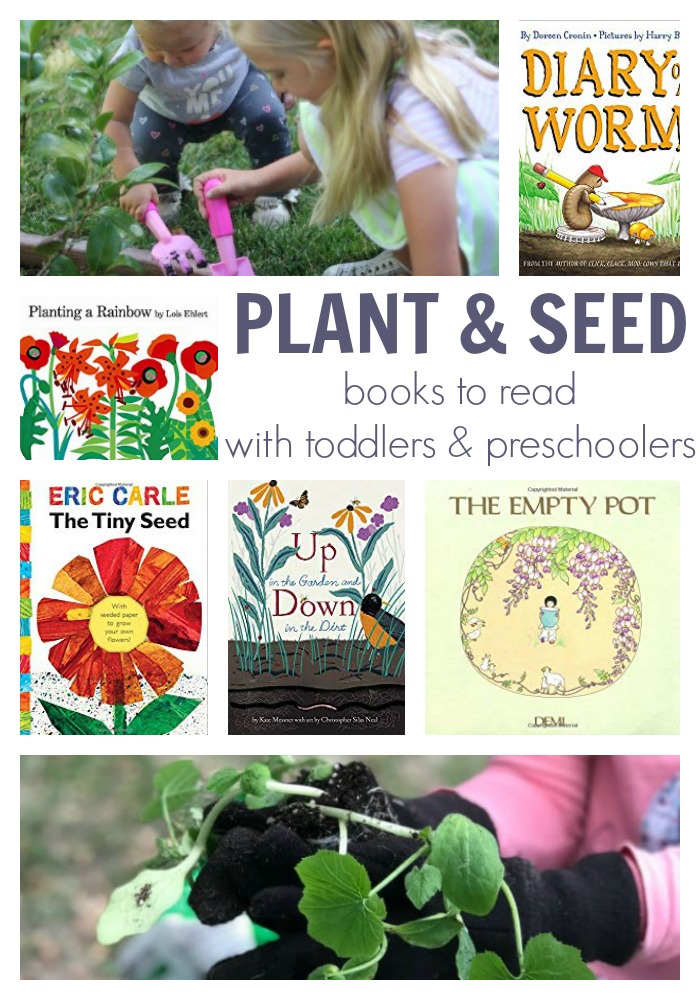 Plant and Seeds Books for Toddlers and Preschoolers
We have selected 5 fabulous books that we hope you will enjoy as much as us that are perfect for reading out loud to your toddler or preschooler. Either click on the links which will take you to Amazon or head to your library/bookstore with our downloadable list below.
The links to Amazon below may earn us a small commission if you decide to purchase.
The first pick for our plants and seed books for toddlers and preschoolers is The Tiny Seed by one of our favourite children's authors and illustrators here on the Virtual Book Club for Kids Eric Carle.
In this story, we follow a little seed through its journey from being blown by the wind in the fall through to summer and it's own seeds being spread far and wide by the wind. This is full of beautiful illustrations and also tells the story of what happens to seeds and how they grow.
Planting a Rainbow by Lois Ehlert
Another favourite author of ours here is Lois Ehlert and Planting a Rainbow is a fantastic book to learn more about seeds and plants.
Follow along with the story as the little girl plants bulbs, seeds and plants throughout the fall, spring and summer to create a beautiful rainbow of a garden.
Up in the Garden, down in the dirt by Kate Messner
As not all the things that happen in the garden with the plants and seeds happens above the soil.
Up in the Garden and Down in the Dirt is a fun book to read and discover what does happen both above and below as you and your preschooler read about the changes throughout the year in this beautifully illustrated book.
Diary of a Worm by Doreen Cronin
Speaking of what happens below the soil in the garden there are lots of worms. In our 4th pick of the best Garden books for toddlers and preschoolers, we have Diary of a Worm.
This is a fun glimpse at what a worm would think and do and is a silly read aloud for you and your little ones to enjoy.
Our final book for plants and seeds is The Empty Pot by Demi. In this Chinese story an Emperor loves flowers, he needs to choose who will be the next emperor of the kingdom to do so he gives every child a seed in a pot and asks that they grow the flowers and return next spring to show them to him.
One boy loves flowers and is excited to grow them for the Emperor, however, when spring comes around he has no flower just an empty pot.
Read along with this story which has a fantastic moral to the ending as well.
Spring Flower Books for Preschoolers
Although if you are planting a seed now the flowers can be a long way off you will still find some spring flowers around and early blooms. Check out these pick of our favourite Spring Flower Books for Preschoolers and you to read aloud.
Lola Plants a Garden by Anna McQuinn
In this lovely story, Lola and her Mommy decide to grow a garden. The story walks you through the process as Lola grows her own garden resulting in a collection of flowers that can inspire you and your preschoolers to grow your own.
[one_half_first]
[/one_half_first][one_half_last]
[/one_half_last]
Flower Garden by Eve Bunting
The Reason for a Flower by Ruth Heller