This week is a fun theme for fall and can be combined with another popular theme of Farms. The theme is Scarecrows and we are looking at Scarecrows and the Corn that they protect to link the theme. The featured book is There was an Old Lady Who Was Not Afraid of Anything by Linda Williams, which is ideal for October but if you are using this theme and don't wish to include a Halloween Element to it then scroll down as we have a selection of Scarecrow books ideal to read with Preschoolers.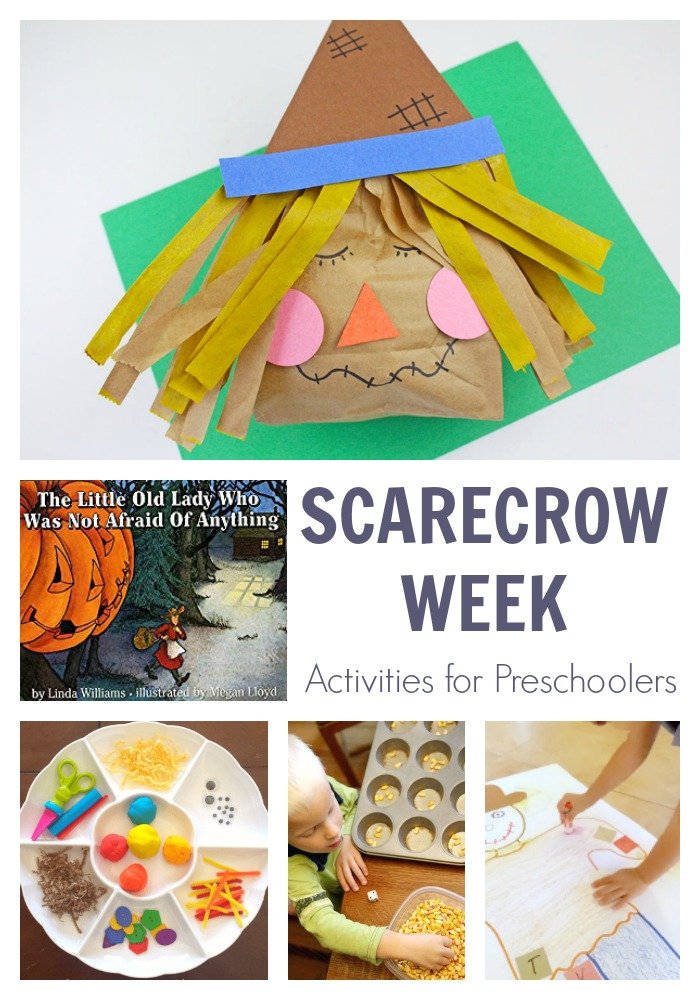 Virtual Book Club for Kids Featured There was an Old Lady Who Was Not Afraid of Anything by Linda Williams
We have included links to the book and resources we recommend for this theme. If you purchase via these links we may earn a small commission on the sale.
The Little Old Lady Who Was Not Afraid of Anything
by Linda Williams is such a fun book to read together with your preschoolers in early fall. It has lots of repetition of actions which you could get your little ones to join in with. Can your preschooler Clomp Clomp in some shoes or Shake Shake like the shirt?
Weekly Virtual Book Club Plans
Get ideas for activities, crafts and recipes based on popular themes and featured books straight to your inbox each week to inspire you to connect and create with your children
Scarecrow and There was an Old Lady Who Was Not Afraid of Anything Activities for Preschoolers
We have picked 5 easy activities based on this theme. Pick the one that appeals to you the most, try a few or if you are looking for more structure for your days then check out our weekly suggested schedule and plan to try all 5.
[thrive_text_block color="purple" headline="Don't Forget"]We love seeing the activities that you do. So if you are on Instagram don't forget to tag us @virtualbookclubforkids and use the hashtag #vbcforkids
OR
Join our Facebook Group and share the pictures in there. [/thrive_text_block]
Scarecrow Sensory Play for the book There was an Old Lady Who Wasn't Afraid of Anything
For this week's sensory play activity, we are going to be setting up an invitation to make scarecrows.
Invitations to.... play, create, build, learn, and read are a great way for your child to use their imagination. Read a scarecrow book and then take inspiration from the pictures or those that you find on the Internet, that they see around them or have seen on the TV and get making.
Alphabet Activity for Scarecrow Week
Time to get a little creative - with this Patch the Scarecrow Alphabet Activity.
If like me you are not great with drawing then grab a big roll of easel paper and ask your preschooler to lay on it and draw around them for the scarecrow shape. Then get creating him and patching his clothes with this alphabet activity.
Math Activity for the Theme of Scarecrows
As the scarecrow protects the corn fields we are going to do some counting with corn kernels.
Although your preschooler maybe able to count out loud the numbers 1 to 10 and know that they go in that order. The next step is to count out the number of objects and know that "Three" as a word is the same as 3 things counted out.
If your preschooler has mastered the counting out then why not try "and one more makes...." to get them started with addition.
Scarecrow Themed Motor Activity
This week we are switching out our science and cooking activity for a "playground game" of Scarecrow Tag.
This is great to play with a group of kids. If there is just you and your preschoolers why not turn it into a scarecrow musical statues game.
Craft Activity for the Scarecrow Theme and There Was an Old Lady Who Wasn't Afraid of Anything
Paper bags are great crafting materials and for this week's Art and Crafts Activity we are creating a Paper Bag Scarecrow.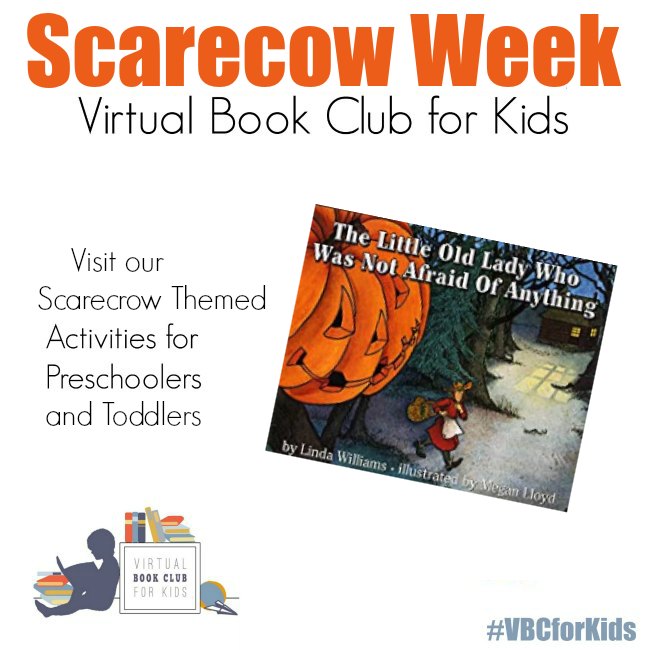 More Scarecrow Books for Preschoolers
If you wish to add a few more books to your reading this week with your child then check out our 3 other book suggestions around the Leaves Theme this week.
[one_third_first]
[/one_third_first][one_third]
[/one_third][one_third_last]
[/one_third_last]
Barn Dance by Bill Martin Jr and John Archambault
The Little Scarecrow Boy by Margret Wise Brown
Scaredycrow by Christopher Hernandez
[thrive_custom_box title="Join Us Next Week For the Virtual Book Club for Kids" style="light" type="color" color="#595975" border="#000000"]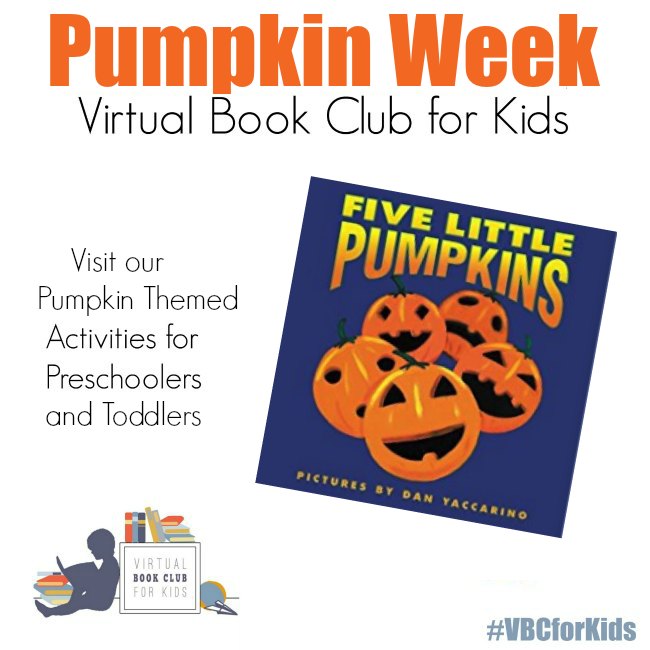 Our Next Theme is Pumpkins and the Featured Book Five Little Pumpkins by Dan Yaccarino
[/thrive_custom_box]