The following post is by Kristina of Toddler Approved:
This month for Virtual Book Club for Kids we are spotlighting Donald Crews!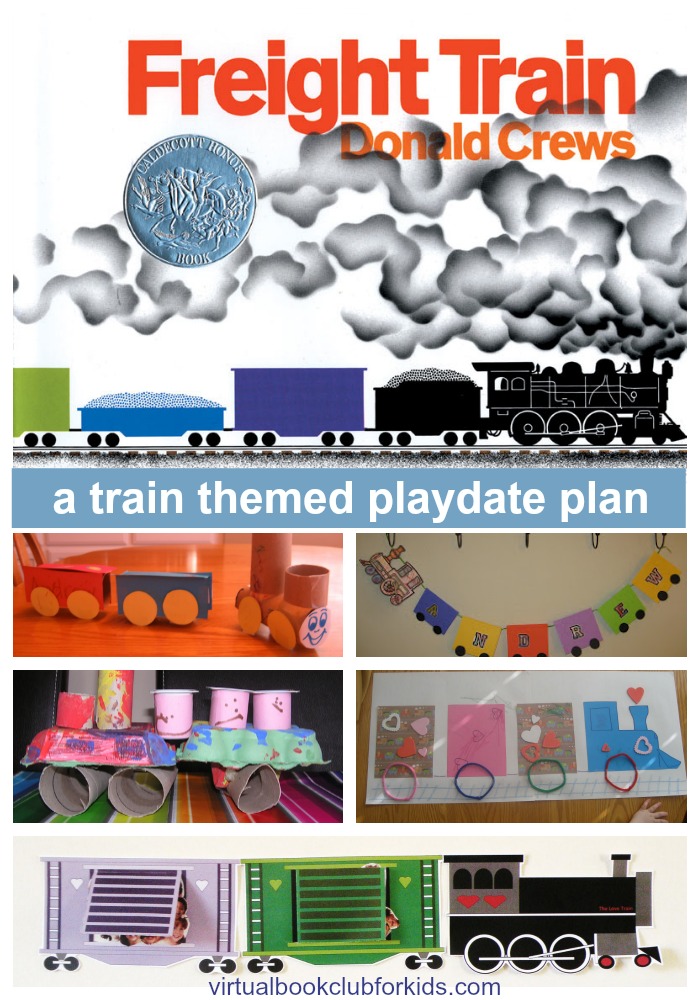 I love to plan book-inspired playdates for kids that are simple and fun. This week we will be crafting and playing along with Freight Train by Donald Crews.
[thrive_text_block color="note" headline=""] More Freight Train Based Activities for Learning and Connecting with Toddlers and Preschoolers Here![/thrive_text_block]
Here are a few resources if you want to create your own Donald Crews inspired playdate!
Just invite some little friends over and then have the kids pick a train themed craft, activity, and snack to make! Easy peasy!
Train Crafts
Thumbprint Train Craft via Craft to Art
Sticker Train Craft from Play Trains
Train Rocks via Thrive 360
Pop Out Choo Choo via Toddler Approved
Egg Carton Train via Rainy Day Mum
Photo Train via Toddler Approved
Name Train Banner via Toddler Approved
Train Marble Art via Mommy and Me Book Club
Train Activities
Playing with trains and bottle caps via Teach Preschool
Playing and Making Trains via Rainy Day Mum
Learning with Trains via The Pleasantest Thing
Train Snacks
Train Snack via Crafts-N-Things for Children
Cheese and Crackers Train via The Usual Mayhem
Train Shaped Tortillas via Mommy and Me Book Club
If you want more train resources, head over to our Train Play Ideas Virtual Book Club for Kids pinterest board! We'll be adding more ideas as we discover them! If you have a favorite train craft or activity, we'd love for you to share the link in the comments of this post so that we can pin it!
Come back on August 19th to check out our Donald Crews link up and all of the other Donald Crews book-inspired ideas. 
Also, don't forget to sign up for our monthly Virtual Book Club for Kids Newsletter if you haven't yet.
Kristina is the author of Toddler Approved. She is a mom of three and is a former Special Education teacher. When she's not blogging, you'll find Kristina jogging around town, organizing church and neighborhood social events, throwing crafting parties for kids, and traveling with her family. Kristina tweets as @ToddlerApproved and can be found on Facebook and Pinterest.