Today we are announcing our third annual Virtual Book Club for Kids Summer Camp!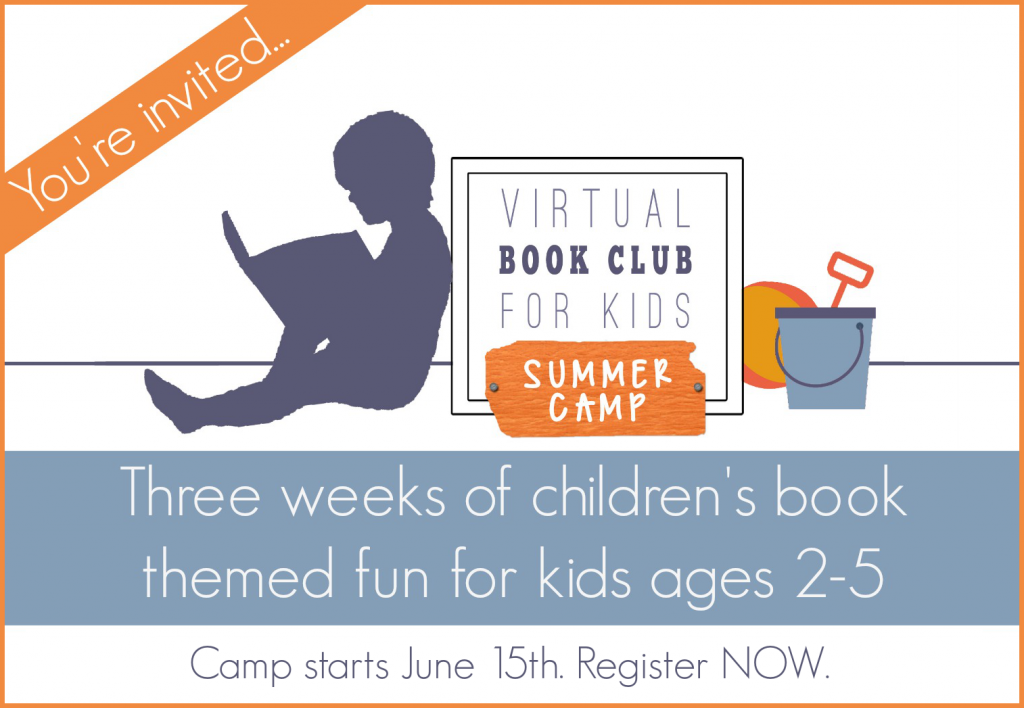 This year we are once again offering three weeks of summer camp for kids ages 2-5! Each week will feature children's book themed crafts and activities.
We have chosen three weekly themes that go along with some of our favorite children's books.
Each week we will be planning and preparing activities, crafts, and cool ideas for you. We'll send you the supplies list and book list ahead of time so you can get those together and then you can kick back and relax until our newsletter arrives in your inbox filled with your activities for the week!
Once you get the newsletter each week you'll have plenty of simple activity ideas planned to help you connect and create with books and your kids all week long!
Find Your Activity Plan Here
Are you interested in joining in? Here's what a Virtual Book Club (VBC) Summer Camp Membership includes...
a pre-camp planner with a book list, supply list, printable camp planner to keep you organized, and a printable sample camp schedule.
15 simple printable activities and crafts featuring favorite children's books based on the weekly themes plus 3 bonus activities.  All activities will be playful and geared around hands-on learning. (You'll receive 6 exclusive activities in each weekly newsletter along with additional resources)
membership to a private Virtual Book Club Summer Camp Facebook group where you can chat with our VBC "Camp Directors" (that's us) and other participants, get tips, other creative ideas, and additional resources.
We are offering Virtual Book Club Summer Camp membership for a special price of $8.99 from April 21st through April 28th. After April 28th the price will be $10.99.
If you'd like to join us for camp this summer, click on the link below to sign up.
IMPORTANT NOTE: THE NEWSLETTER WILL BE SENT TO THE EMAIL YOU USE FOR PAYPAL. PLEASE MAKE SURE IT IS THE CORRECT EMAIL YOU WOULD LIKE TO USE. NO EMAIL CHANGES WILL BE MADE ONCE YOU REGISTER.
You may want to sprinkle the activities throughout the summer every few weeks or do them along with us each day. Sessions are scheduled for the weeks of June 15th, June 22nd, and June 29th.
** Once you register for Virtual Book Club Summer Camp you'll receive a note from paypal saying, "Receipt for Your Payment to Virtual Book Club for Kids" along with a welcome email within a few hours with camp themes and an invitation to our private Virtual Book Club Summer Camp Facebook group so we can start chatting! If you don't see your receipt welcome email within two days of signing up, please contact us at [email protected]. Before you contact us check your spam and make sure that you are checking the correct email address account.
The Camp Directors this year are me (Kristina from Toddler Approved), Kim Vij (from The Educators' Spin On it) and Cerys Parker (from Rainy Day Mum).
We are three moms (& former teachers) that will be on call to help you create an awesome summer for your kids! I am especially excited about camp because I am exhausted from the year and really want to simplify this summer but still connect with my kids each day in fun, easy & creative ways (while also sneaking in a little learning).
Every activity in our VBC Summer Camp will be simple, have easy to get materials, and will be geared towards kids ages 2-5. I can't wait! Hope to see YOU at camp this summer!
Note: Registration is via Paypal but you don't have to use a Paypal account to register. You can also just use your credit card. Please contact us with any questions regarding payment at [email protected].
Also, if you register, please email us if you live in the EU as for tax records we need to pay VAT on your membership.
Hope you'll be joining us this summer!!