Since we started The Virtual Book Club for kids one of our favourite themes to do with our preschoolers has been the Construction Theme. Alongside being our favourite theme it's also featuring one of our favourite books Goodnight, Goodnight Construction Site by Sherri Rinker.
So here you go your week plan for Construction Theme for Preschoolers.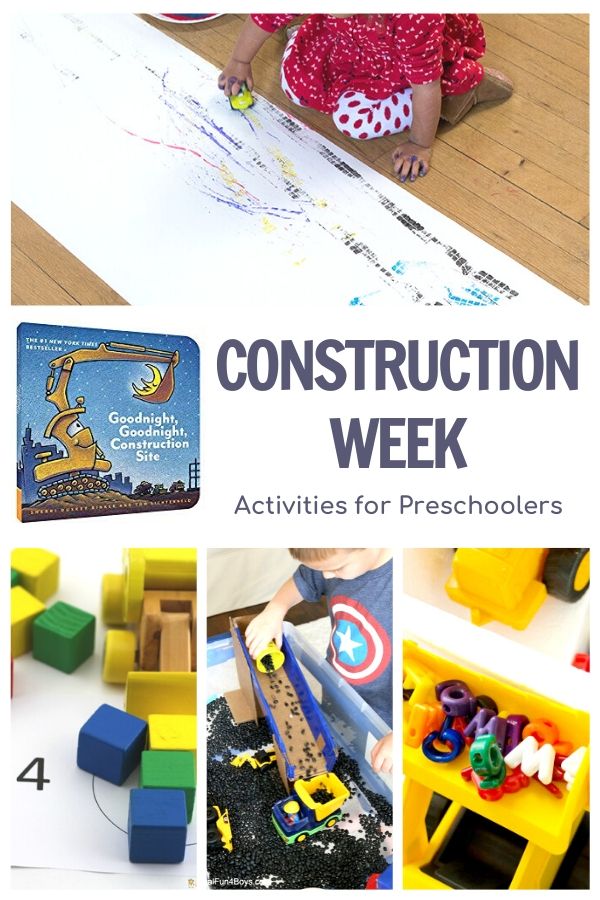 Find Your Activity Plan Here
Virtual Book Club for Kids Featured book Goodnight, Goodnight Construction Site
We have included links to the books on Amazon. As an associate, we may earn from qualifying purchases.
This week's featured book is Goodnight, Goodnight Construction Site by Sherri Rinker. A favourite with our kids and has been since they were tots.
In this delightful book as the sun sets and the day ends the trucks and diggers on the construction site get to say goodnight. It's a lovely book to read whatever the time of day but especially nice at bedtime too.
Weekly Virtual Book Club Plans
Get ideas for activities, crafts and recipes based on popular themes and featured books straight to your inbox each week to inspire you to connect and create with your children
Construction Week Plan for Preschoolers
Each week we pick 5 simple activities for the week to do with your preschooler. We focus on playing, learning, creating and most importantly having fun at home.
How you schedule this out is up to you, but our suggested plan below is how one of the Virtual Book Club for Kids team structures their week with the preschooler at home. An activity a day!
If you would like more activities or alternatives then below the 5 ideas you will find our Construction Week Board on Pinterest where we have been pinning lots of ideas for fun activities to do together.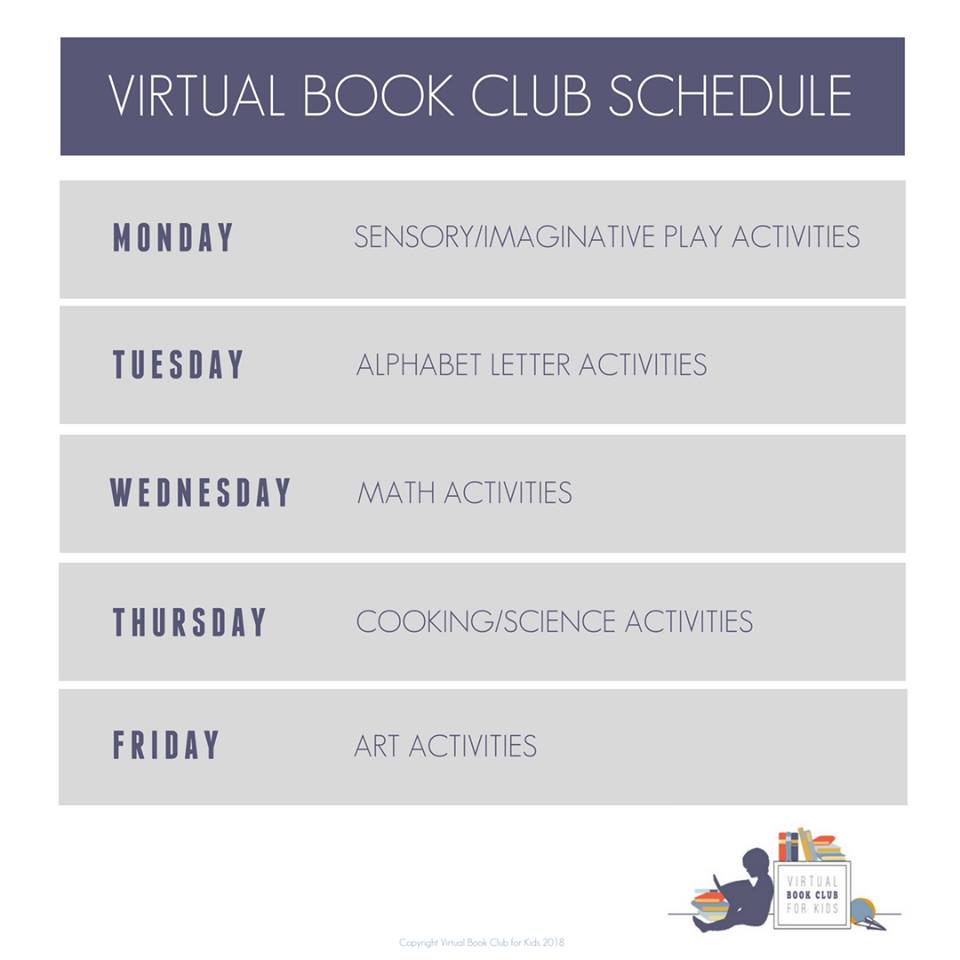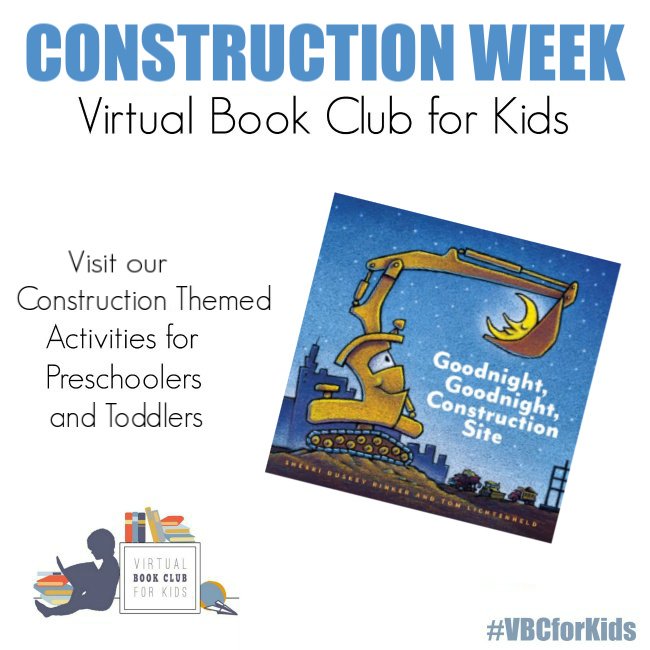 Sensory Play Activity
There are so many fantastic sensory construction activities that it was difficult to pick one. However, this construction truck sensory bin is great. Easy to set up and our kids loved to pour down the slide.
Alphabet Activity for Construction Week
We're digging up letters in this alphabet construction truck activity. So easy to set up and help your child learn their alphabet.
Try to mix in upper and lower case letters for some extra fun and learning.
Construction Themed Math Activity for Preschoolers
Our math activity this week is working on numbers and we have found a fun, simple and easy to do build and count activity with your construction toys.
Construction Science and Snack
We're combing STEM and our snack this week with an edible construction STEM activity that will have your preschoolers building.
Construction Themed Art and Craft Activity for Preschoolers
Get out the paints, some large pieces of paper and let your little ones get creative with their construction toys in this wheel and track painting activity.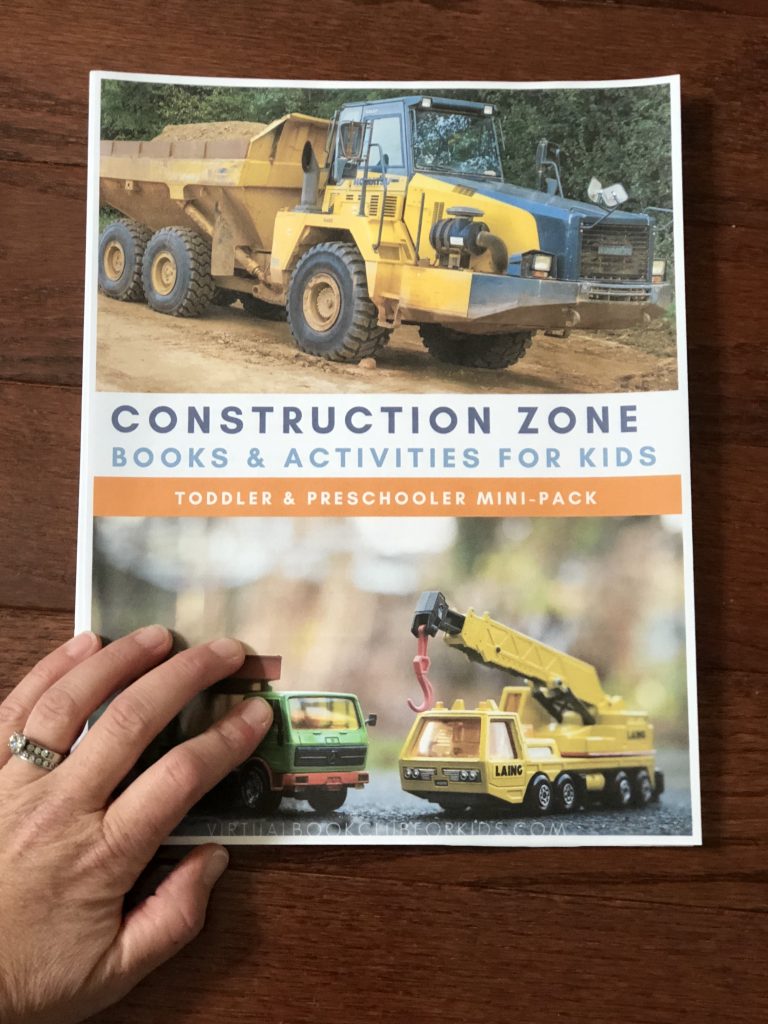 CONSTRUCTION ZONE
MINI-PACK
Looking for even more ideas for the theme of construction.
Our mini-pack has
7 more fun activities with step by step guides
songs and fingerplays
More COnstruction Activities for Preschoolers over on Pinterest
If you would like even more construction themed fun activities to do with your preschooler then check out our construction themed board over on Pinterest below.
Construction Books for Preschoolers
Whether you want to add a few more construction books to your reading selection this week or switch out Goodnight, Goodnight Construction Site here are 3 other preschool books we would recommend for this theme.
Digger, Dozer, Dumper by Hope Vestergaard
Roadwork (Construction Crew) by Sally Sutton
Little Excavator by Anna Dewdney