With things that go bump in the night, we switching up our Weekly Activity Plans for just one week here on Virtual Book Club for Kids. So get ready for a frightfully fun time with your toddlers and preschoolers as we go all spooky with our Halloween Challenge week.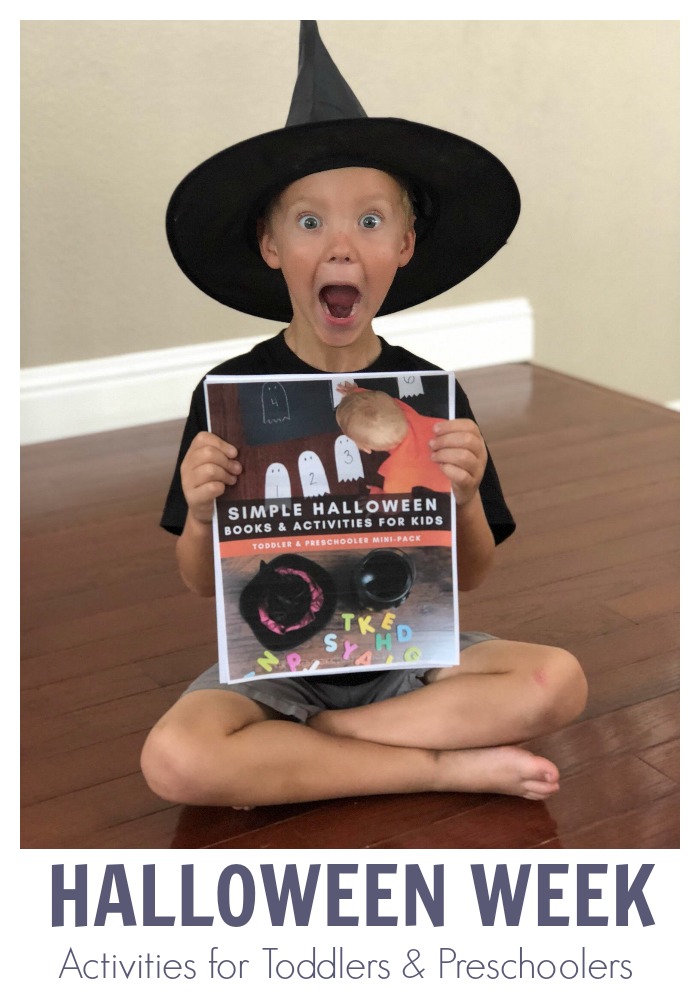 Find Your Activity Plan Here
Simple Halloween Books and Activities for Kids
We hope that you have liked our 3 fun weeks leading up to Halloween - The Little Lady Who was not Afraid of Anything, Five Little Pumpkins and Ten Timid Ghosts.
And now it's time to do our Halloween Challenge!
With 7 Activities this week that are ideal for toddlers and preschoolers to have fun, play, read and learn we're making it easy for you to plan, and join in with your kids as we have a week of connecting and creating with books.
Get Your Halloween Challenge Pack and Activity Guides NOW!
Activities for Halloween Week for Toddlers and Preschoolers
Themed around 7 "scary" Halloween Creatures we have 6 activities plus an easy snack to make with your kids all with easy to follow STEP-BY-STEP instructions.
Featuring:
Spiders
Ghosts
Witches
Pumpkins
Skeletons
Bats
and Monsters
These have been created by the Virtual Book Club for Kids Team and follow a similar pattern to our fantastic Summer Camps that we host each year.
Each Simple Halloween Activity Includes
For each activity, we have made it as easy as possible for you and your kids to do. So each activity guide includes:
Supply lists
Any preparations you need to do ahead of time
Step-by-step instructions
Skills that the activity is working on
PLUS adaptions for using with even younger children
Get The Halloween Challenge Pack for Just $3.99
Also Included in our Halloween Challenge Pack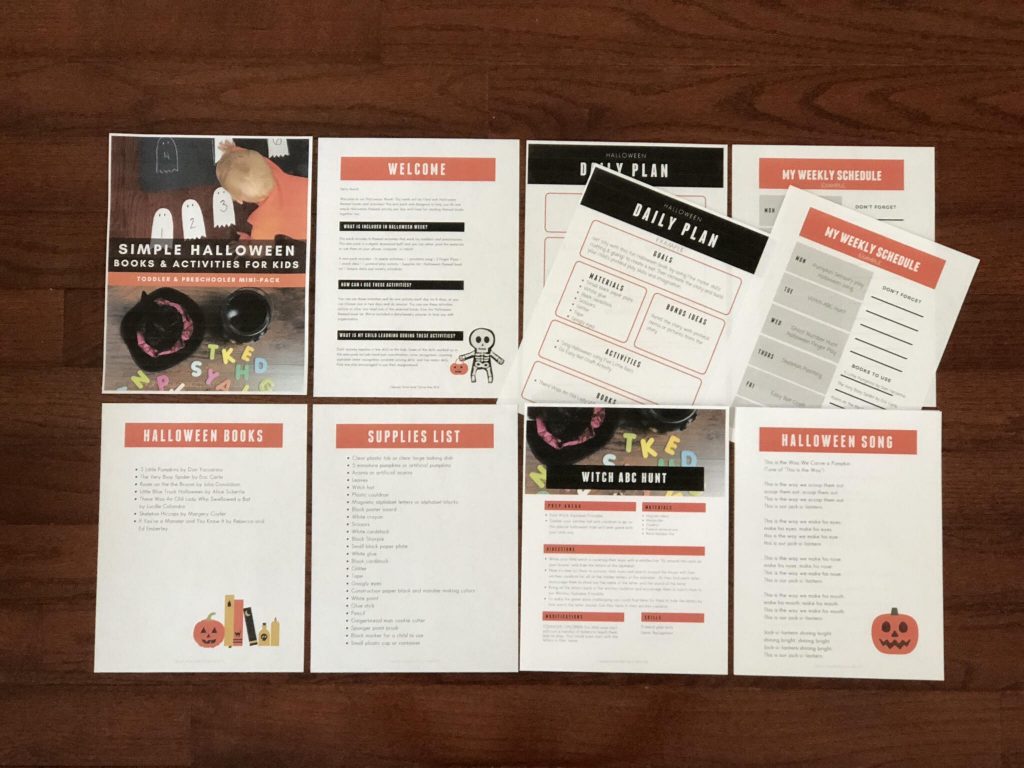 For this week only we've included a bit more for you and your preschoolers than we do with our FREE WEEKLY ACTIVITY PLANS.
So in addition to the 6 Activities and 1 Snack Recipe, you will also get!
Songs and finger rhymes to sing together with clickable links to take you to versions of the song on YouTube so you can find the tune.
Supplies list as a separate sheet which has everything but the snack ingredients listed so that you can collect it all together ahead of time making it easy to do the activities ahead of time.
Planning Sheets for the Week and Day to Day including example sheets that we have filled in ready for you if you want to follow our suggested plan exactly
Our favorite Halloween Books in a list so you can head to the library and fill your book box this week and enjoy reading these toddler and preschool teacher recommended picture books together.
Join Our Halloween Challenge and get your Mini-Pack with ALL the Activity Guides TODAY!
Featuring these Favorite Halloween Books
If you wish to purchase these classic children's picture books we have provided links to Amazon. If you buy the books by the links we may earn a small commission.
The Very Busy Spider by Eric Carle
Five Little Pumpkins by Dan Yaccarino
Room on the Broom by Julia Donaldson
Little Blue Truck's Halloween by Alice Schertle
There was an Old Lady that Swallowed a Bat by Lucille Colandro
If You're a Monster And You Know It by Rebecca and Ed Emberley
Skeleton Hiccups by Margery Cuyler
Will you Join our Halloween Book and Activity Challenge?
We hope that you will join us as we read some of our favourite spooky books, share fun activities and sing along with these Halloween Rhymes and Fingerplays.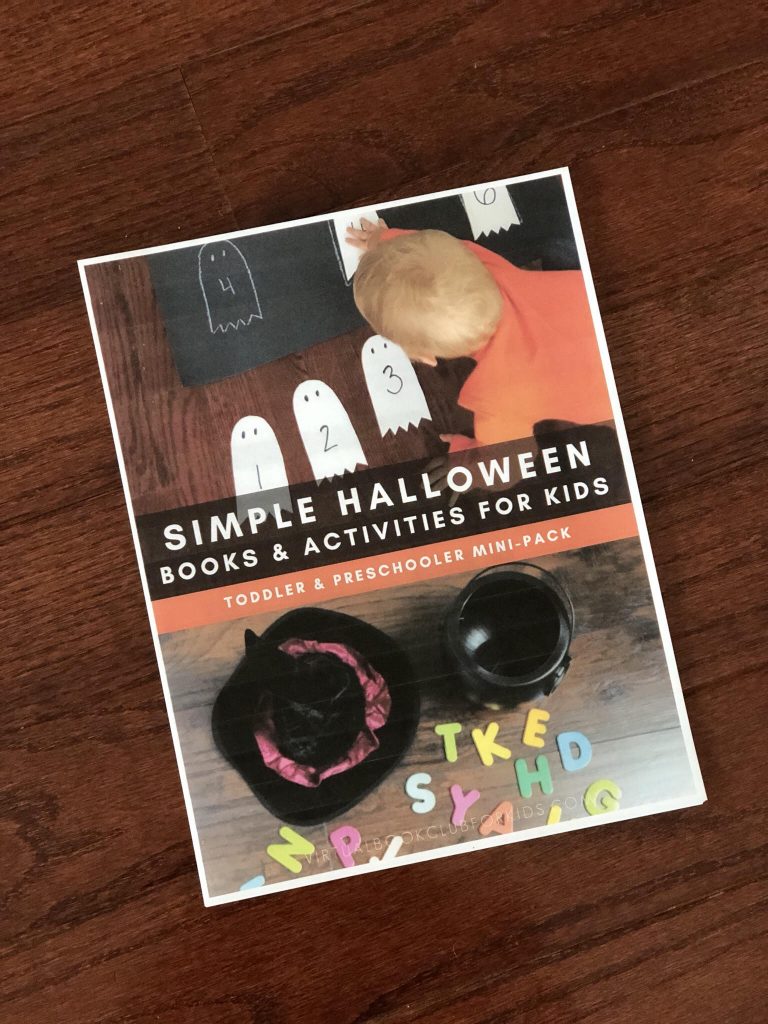 The whole Simple Halloween Books and Activities Challenge Pack is now available in our store form $3.99.
But you can get this and our 2 additional mini-packs for a week of Construction Fun and a week of Space Themed Activities as a bundle for just $9.99!
That's 21 activities for 3 weeks of themed reading, playing, creating and learning written especially for your toddlers and preschoolers and you to enjoy.
Head to our Store to get your Halloween Challenge Pack or Bundle of Activities NOW