As the clock changed last weekend, it seems that this week's Virtual Book Club for Kids Theme is right on target with it being bedtime. Whether it's the stars and moon that children can start to see, snuggled under quilts or picking out warmer pajamas for the winter you can find lots of fun activities for your toddlers and preschoolers this week based on our Bedtime Theme and the featured book Llama Llama Red Pajama by Anna Dewdney.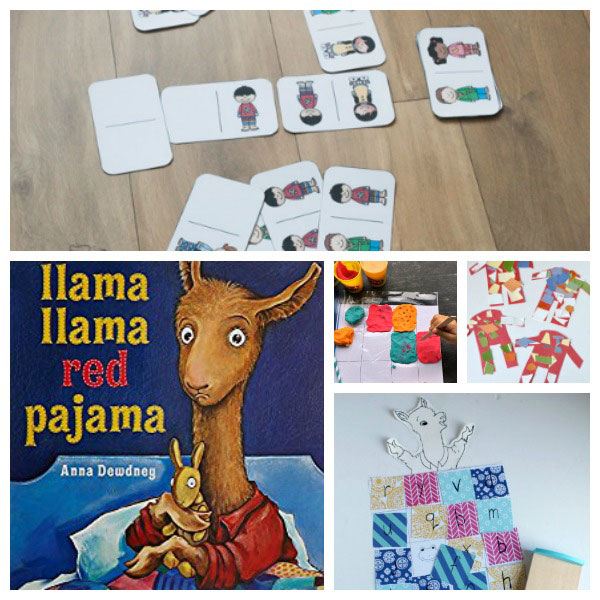 Llama Llama Red Pajama by Anna Dewdney
We have provided affiliate links to some products and resources in this post. If you purchase through them we may earn a small commission.
LOOK WHAT'S NEW!
DOUBLE DOUBLE TOIL AND TROUBLE!
Our Halloween Book and Activities Mini-Pack for Toddlers and Preschoolers is NOW AVAILABLE in our brand new store
7 Fun Step-by-Step Activities to host your own week of Virtual Book Club for Kids at home with picture book recommendations, songs and rhymes plus a supply list making it possible to have a not so scary Halloween week with your kids
This week's featured book is a classic storybook for toddlers and preschoolers.
Llama Llama Red Pajama
by Anna Dewdney. It could retell many a bedtime in my household, where little ones don't want to go to sleep because it means "missing out" and missing me. With fun illustrations and lovely rhymes, this is a firm favourite with the team behind The Virtual Book Club for Kids.
Bedtime themed activities from the Virtual Book Club for Kids Coordinators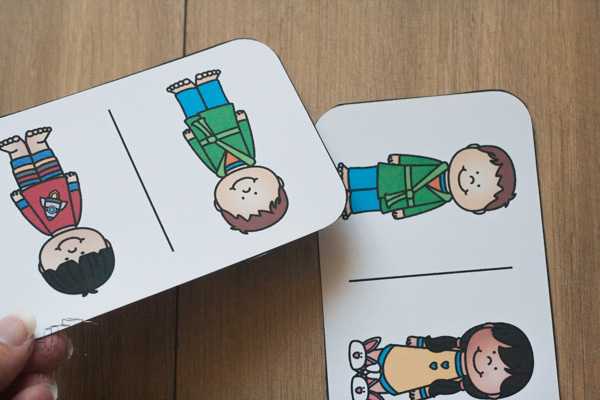 Colour Matching Pajama Domino Game from Rainy Day Mum - sign up to get the Domino set to the newsletter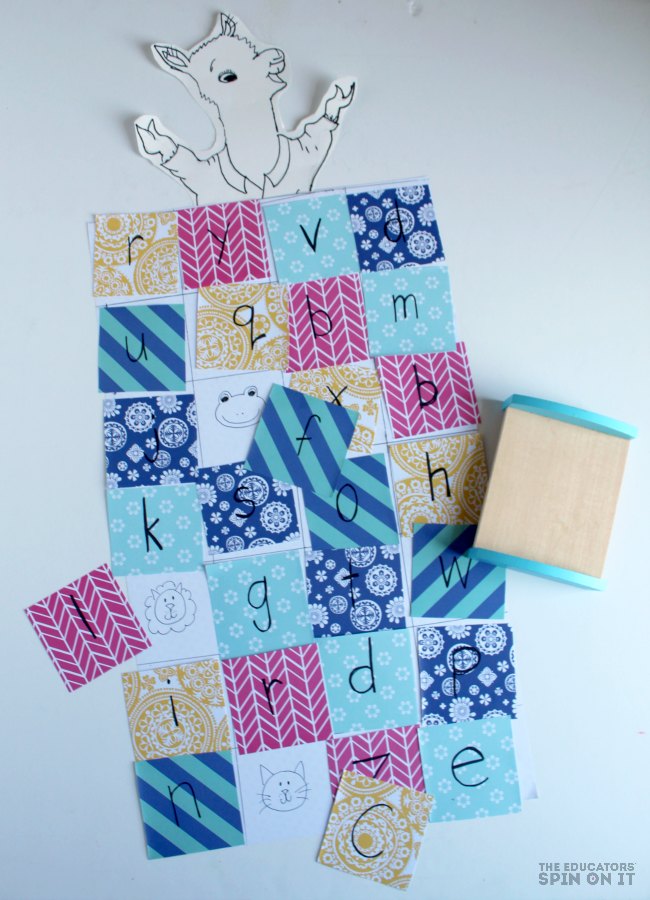 Alphabet matching quilt from The Educators' Spin On It
Llama Llama Red Pajama Inspired Spin Art from Toddler Approved
Join in with Weekly Themed Virtual Book Club for Kids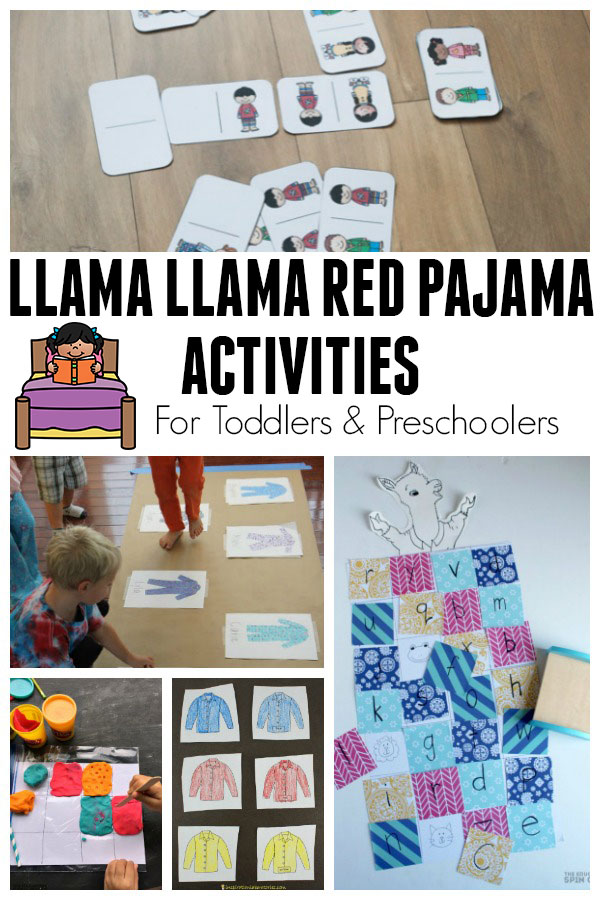 Each week throughout the school year we share a fun theme for toddlers and preschoolers plus a classic featured book and give you the inspiration to connect and create learning experiences with your children. Ideal for parents, carers and educators the activities and written by parenting and education bloggers from around the world.
There are two ways that you can join us each week come over to our Facebook Group and join nearly 8000 others bringing books to life for their children.
[thrive_link color='purple' link='https://www.facebook.com/groups/weeklyVBCforkids/' target='_blank' size='big' align='aligncenter']Join Our Weekly Virtual Book Club Facebook Group![/thrive_link]
You could also join our weekly themed newsletter sending the week's post straight to your inbox so that you can plan, create and enjoy without having to hunt for ideas and inspiration.
Weekly Virtual Book Club Plans
Get ideas for activities, crafts and recipes based on popular themes and featured books straight to your inbox each week to inspire you to connect and create with your children
More Bedtime Themed Books for Toddlers and Preschoolers
Our featured book this week is
Llama Llama Red Pajama
by Anna Dewdney, however, we know sometimes you can't find the featured book or you wish to have a collection of books on a similar theme. So each week we provide some extra books that we recommend that you could swap or add to the week's reading with your child.
Goodnight Moon by Margaret Wise Brown
Goodnight Goodnight Construction Site by Sherri Duskey Rinner
Time for Bed by Mem Fox
Don't Let the Pigeon Stay Up Late! by Mo Willems
Good Night, Gorilla by Peggy Rathmann
How do Dinosaurs Say Good Night? by Jane Yolen
Pajama Time! by Sandra Boynton
More Bedtime Themed Activities for Toddlers and Preschoolers
These activities are produced each week by the cohosts of the Virtual Book Club for Kids based on the week's theme and featured book.
Storytelling Our Way to Bed – Mama Smiles
Quilt Block Tracing Activity – J Daniel 4's Mom
Bedtime Yoga – The Moments at Home
Llama Llama Bedtime Heart Lovey – My Storytime Corner
Llama Llama Patterned Pajamas Pre-Writing Activity from Rainy Day Mum
Llama Llama Red Pajama Movement Game from Still Playing School
Symmetry Quilts by Mama Miss
Llama Llama Red Pajama Colors Words and Matching Game from Inspiration Laboratories
Red Pajama Lacing Activity from 3 Dinosaurs
Llama Llama Red Pajama Quilt Color Matching from I Can Teach My Child!
Llama Llama Red Pajama Sensory Play from Educators' Spin On It
Five Bedtime Snacks for Llama Llama Red Pajama from Study at Home Mama
Magic Science Trick with Water from The Pleasantest Thing
Llama Llama Red Pajama Alphabet Activity from Mom Inspired Life
Pajama Name Matching Activity for Kids from Toddler Approved
Llama Llama Red Pajama Hidden Numbers Blanket Game from Preschool Powol Packets
Weekly Virtual Book Club Plans
Get ideas for activities, crafts and recipes based on popular themes and featured books straight to your inbox each week to inspire you to connect and create with your children
---
Pin These Bedime Themed Activties for Toddlers and Preschoolers to do Later