This week's featured book on the Virtual Book Club for Kids is A Rainbow Of My Own by Don Freeman for the theme of Rainbows. This is ideal to do in spring or in the lead up to St Patrick's Day this weekend. We have some simple and fun activities pre-planned for you, songs and rhymes plus other book suggestions and more. So here you go your Rainbow Themed Weekly Activity Plan for Preschoolers.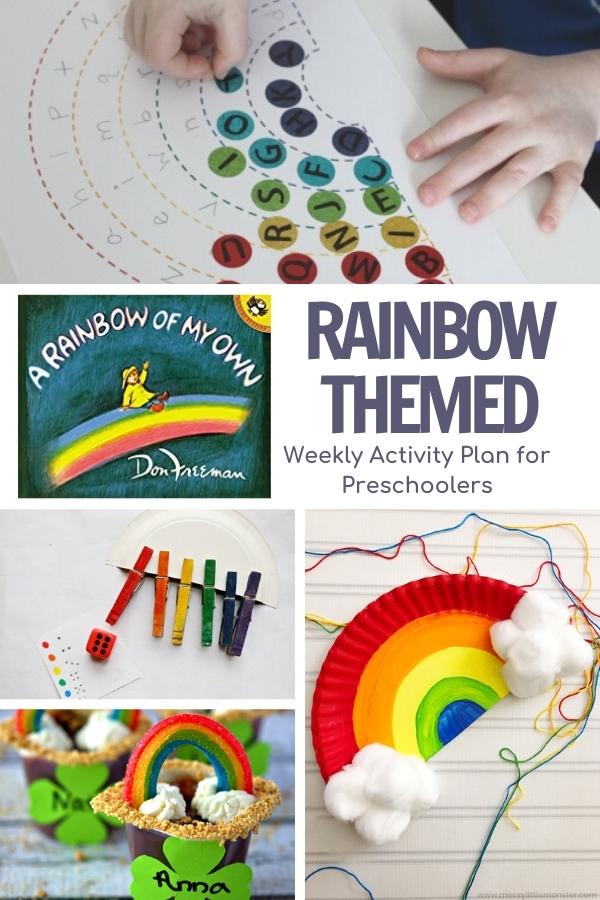 Find Your Activity Plan Here
A Rainbow of My Own by Don Freeman Virtual Book Club for Kids Featured Books
We have included links to the books on Amazon. As an associate, we may earn from qualifying purchases.
For our rainbow week this year we have picked the classic children's book A Rainbow of My Own by Don Freeman. This is a lovely book that is inspired by every child's wish to catch the rainbow for themselves.
Don't worry if you can't find a copy of the book to share with your preschoolers why not sit together and watch the read aloud below.
Weekly Virtual Book Club Plans
Get ideas for activities, crafts and recipes based on popular themes and featured books straight to your inbox each week to inspire you to connect and create with your children
Rainbow Songs and Rhymes for Preschoolers
Each week in our activity plans we try and share some simples rhymes and songs that you and your preschool can join in with and get moving. Here's this week's selection.
I Can Sing a Rainbow
Rainbow Colors
Exercise and Learn the Colors of the Rainbow
Plan your Rainbow Week Activities for Preschoolers
Looking for a simple structure for the week - check out our weekly plan below.
Monday -> Sensory Play
Tuesday -> Letter and Word Activities
Wednesday -> Math
Thursday -> Science or Snack
Friday -> Arts and Crafts
A Rainbow of my Own Activity Plan for Rainbow Themed Week with Preschoolers
A fun week of planned activities for preschool featuring the book A Rainbow of My Own by Don Freeman on the theme of rainbows.
Rainbow Activities on Pinterest
As well as our simple activity plan above we curate activities for each of our themes on Pinterest you can find the Rainbow activities board below and don't forget to follow our account for more ideas.
Rainbow Books for Preschoolers
As well as our featured book, here are 3 other recommend reads for preschoolers on the theme of rainbows.
More Activity Plans for Preschooler For Rainbows and St Patrick's Day