This week for the Virtual Book Club for Kids we are celebrating the Hindu festival of Holi, a national spring celebration and holiday in India and Nepal as well as many other countries around the world. It's the "festival of colors", as the spring is welcomed in and the end of winter. We have picked a fantastic book for you to read together with your preschooler this week to learn more about the celebration, Festival of Colors by Surishtha Sehgal and Kabir Sehgal. So here you go a week of planned simple activities, book, rhymes and songs to celebrate and learn about Holi with your preschooler.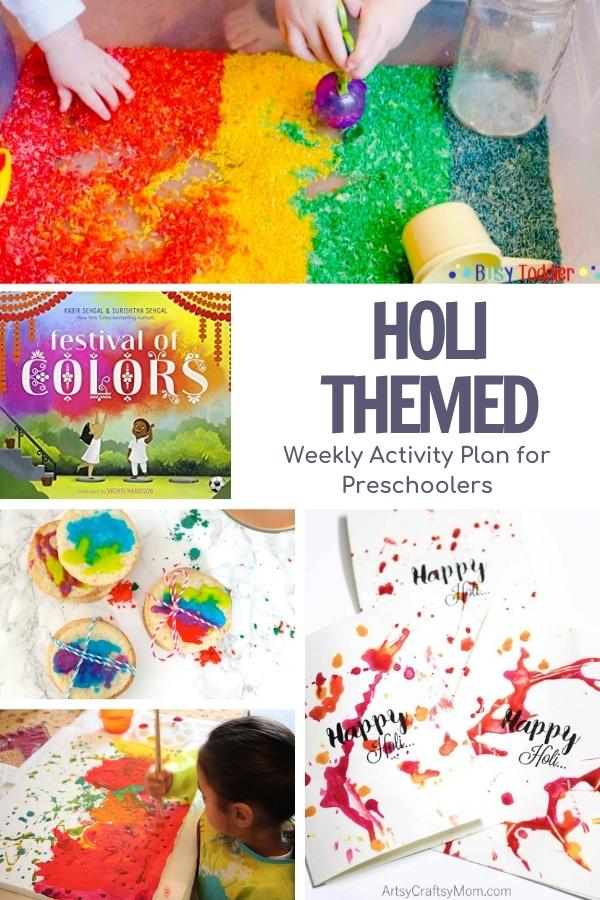 Find Your Activity Plan Here
Festival of Colors by Surishtha and Kabir Sehgal Virtual Book Club for Kids Featured Book
We have included links to the books on Amazon. As an associate, we may earn from qualifying purchases.
This week's featured book for the Virtual Book Club for Kids is Festival of Colors by Surishtha and Kabir Sehgal. A fantastic book that guides us through the celebration following two children as they prepare and enjoy the festivities. There is a short information page about the celebration as well to learn a little more about it too.
Don't worry if you haven't been able to get hold of the book here's it being read aloud for you and your preschooler to enjoy.
Weekly Virtual Book Club Plans
Get ideas for activities, crafts and recipes based on popular themes and featured books straight to your inbox each week to inspire you to connect and create with your children
Holi Rhymes and Songs
As well as the books and activities in our weekly activity plans we also share some rhymes and songs to get you singing and dancing around with your preschoolers.
Check out the 3 below and if you would like some more then check out Kim's site The Educators' Spin On It and her selection of even more Songs for Holi.
Happy Holi
Holi Aayee
Holi Pichkari Party Special Song
Holi Week Schedule
As this is a fun celebration full of colors were haven't stuck strictly to our daily themes, colors though is part of maths and there are plenty of colorful activities further on you can find on our Pinterest board.
This week, we suggest setting up the sensory bin and the doing one of the simple planned activities a day and enjoying yourself learning about a different culture and how one of their festivals is celebrated.
Holi Week Activity Plan for Preschoolers
A fun week of planned activities for preschoolers for Holi week featuring the book Festival of Colors by Surishtha Sehgal and Kabir Sehgal.
Holi Activities for Preschool on Pinterest
Looking for even more activities and ideas we have a fun Pinterest board that you can follow to see ideas below. It's even got some ways to make your own Holi paints for those that would like the full experience!
More Books about Holi for Preschoolers
Looking for other books to read together this week then check out these other recommendations below that Kim has suggested.
More Activity Plans to Learn About Different Cultures
Would you like to introduce learning more about different cultures to your preschoolers check out some of these other activity plans you can save and use at different times of the year