This week's theme is snowflakes another fun Winter theme to explore with children. It doesn't matter if you have snow or not as one of the activities we have suggested below we are going to make our own fake snow for indoor winter play with preschoolers.
Our featured book this week is The Little Snowplow by Lora Koehler, however if you can't find this book then scroll down as we have 3 other fun Snow and Snowflake Themed Books for Preschoolers to read aloud.
So here we go our Week of Snowflake Fun for Preschoolers here on Virtual Book Club for Kids.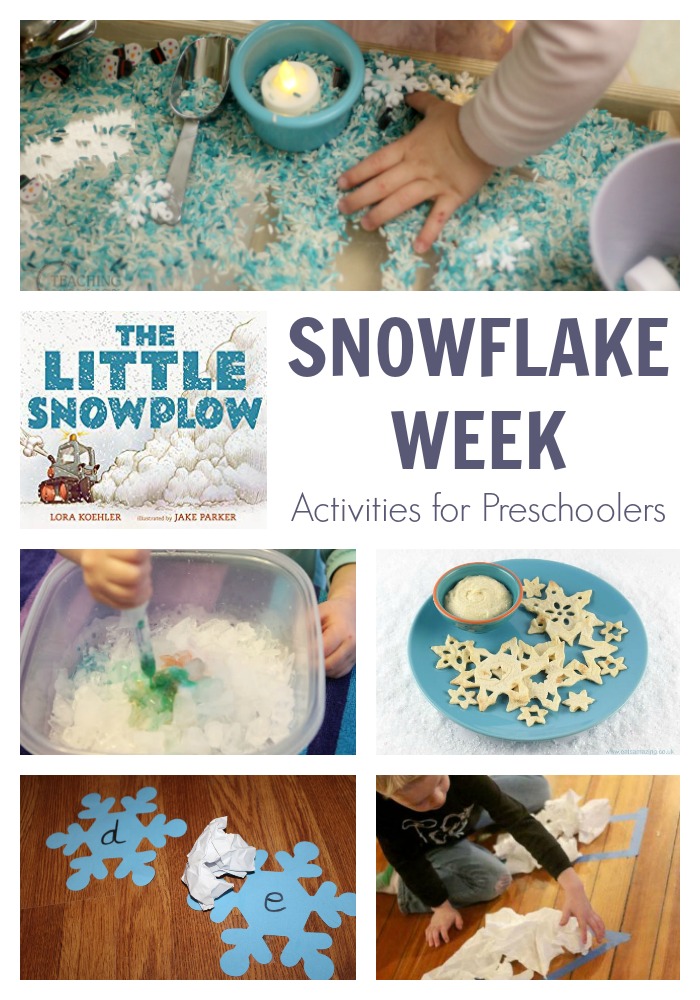 Find Your Activity Plan Here
Virtual Book Club for Kids Featured Book The Little Snowplow
We have included Amazon links to the books we recommend. If you purchase via the books we may earn a small commission.
This week's book for the theme of snowflakes is The Little Snowplow by Lora Koehler. Although this is a longer book it's great for sitting down and reading together especially if you have construction or truck kids. The little snowplow is teased by the big trucks in the story throughout the year for being small. But, like all good stories being small doesn't make you any less mighty and in the end, the little snowplow saves the day.
Scroll down for more snow and snowflake book recommendations and check out last week's theme of Snowmen for more inspiration to add to your book basket this week.
Don't have the book, you can listen to this read aloud of The Little Snowplow.
Weekly Virtual Book Club Plans
Get ideas for activities, crafts and recipes based on popular themes and featured books straight to your inbox each week to inspire you to connect and create with your children
Snow and Snowflake Themed Week for Preschoolers
Each week here on the Virtual Book Club for kids we share 5 simple easy activities for you and your preschoolers to do together. These activities are fun, help your child learn, get creative and match the theme and connect with the featured book.
Whether you choose to do just 1 of the activities or you follow our suggested activity plan below it is up to you. If you would like to get access to these plans each week then sign up to our newsletter above and we will send you an email on a Friday with a link to the coming week's plan here on the site.
Check out the snowflake activities for preschoolers below.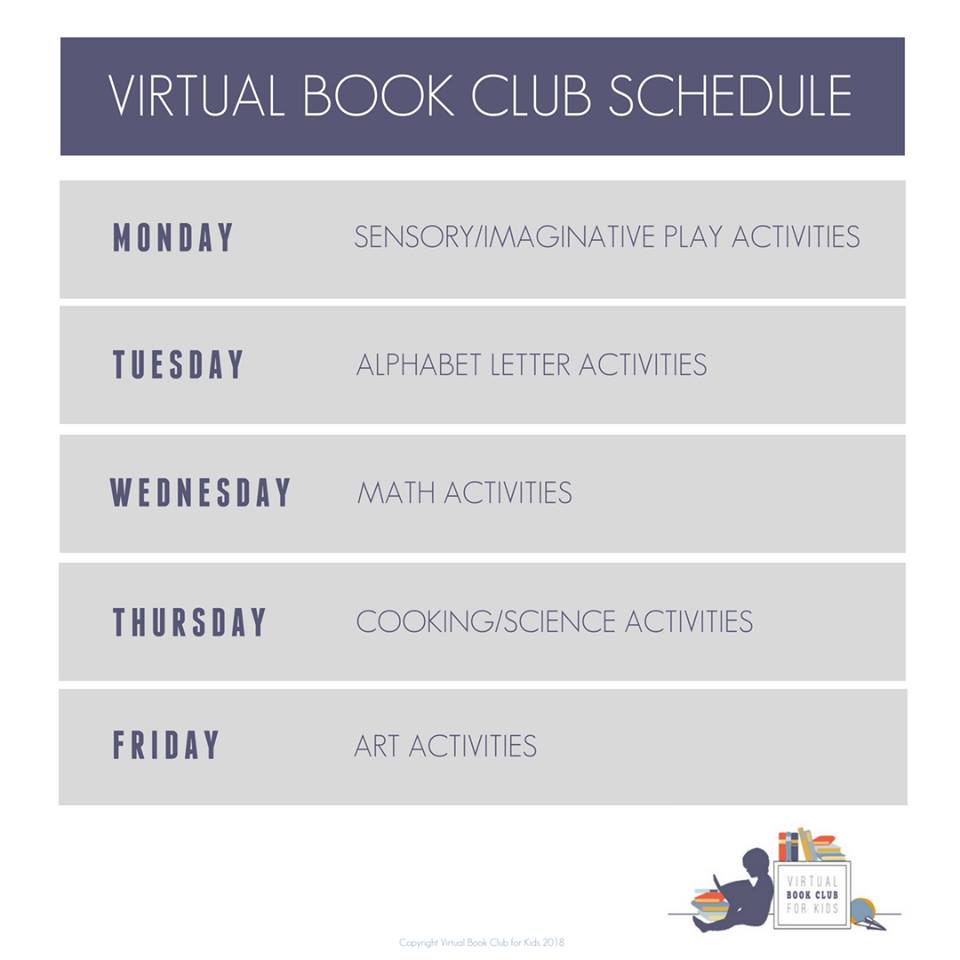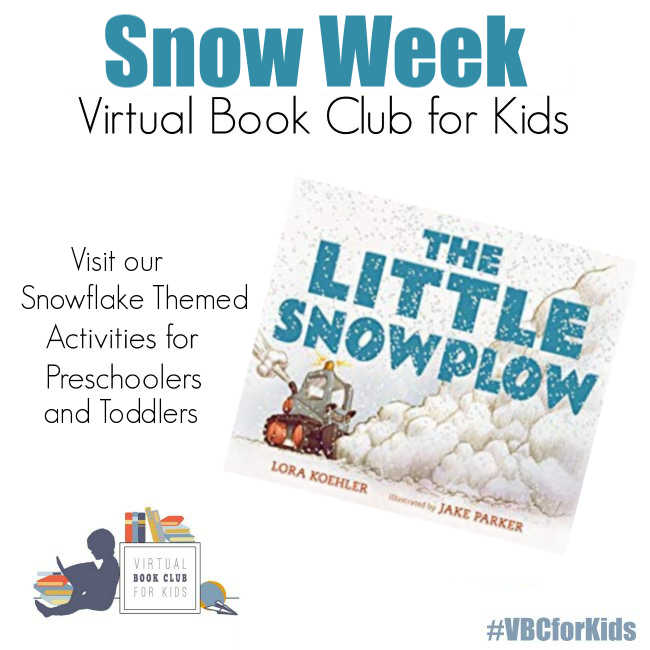 Snowflake Themed Sensory Bin for Preschoolers
We are featuring a simple Winter Snowflake Sensory Bin this week.
I added in some snowflakes that my preschooler and I punched out from our craft supplies as well as some large dollar store snowflakes we had over Christmas.
Putting this together means that there is a simple sensory activity that you and your preschooler can use all week as everything in it can be reused.
Alphabet Activity for Preschoolers Inspired by The Little Snowplow
Like our counting activity from last week where we had a snowball fight, we are using the same idea this week after seeing the fun everyone has had with that over on Instagram and in our Facebook Group.
So we have an Alphabet Snowball fight for you and your little ones to enjoy.
Math Snowflake and Snow Themed Activity for Preschoolers
In the book, a lot of emphases is placed on size - a little snowplow and big trucks. Measuring is an important math skill that preschoolers need to learn as well as counting and number recognition.
This Snowball Shape Measuring Activity use the snowballs to decide which of the shapes is the biggest and which is the smallest.
Very easy to do and leads to lots of math language as well as hands-on learning.
Snowflake Snack for Preschoolers
Our cooking activity this week is a Tortilla Snowflake Snack.
They are so easy to make - our snowflake cookie cutters have the holes already cut so it's even easier and the kids love them.
For a sweet treat instead of a savoury sprinkle with some cinnamon sugar before cooking.
Snow themed Art and Craft Activity for Preschoolers
We are combing art and science in our art and craft activity this week exploring colours and mixed whilst using a little science.
This will need a little time ahead to prep to freeze the "ice" for the activity but it's a lot of fun to try this Fizzy Ice Activity.
More Snowflake Themed Books for Preschoolers
Curious About Snow (Smithsonian) by Gina Shaw
Ten Sparkly Snowflakes by Tiger Tales
Snowflake Bentley by Jacqueline Briggs Martin
Millions of Snowflakes by Mary McKenna Siddals
Snowflakes Fall by Patricia MacLachlan and Steven Kellogg
Find more Snowflake Inspired Activities for Preschoolers
If you are looking for extra or different activities for this week check out our Pinterest Board for Snowflake Themed Activities for Preschoolers
More Winter Themed Week Plans for Preschoolers
Snowmen at Night Themed Week for Preschoolers