Whether you have snow or not snowmen is such a fun theme for preschoolers to explore. It's easily adaptable to Christmas or winter and kids will love engaging with this fun winter preschool theme. We've chosen Snowmen at Night by Caralyn Buehner as our featured book this week. However, scroll down and find some extra or alternative Snowmen Themed Books for Preschoolers which are ideal for this Snowmen Week.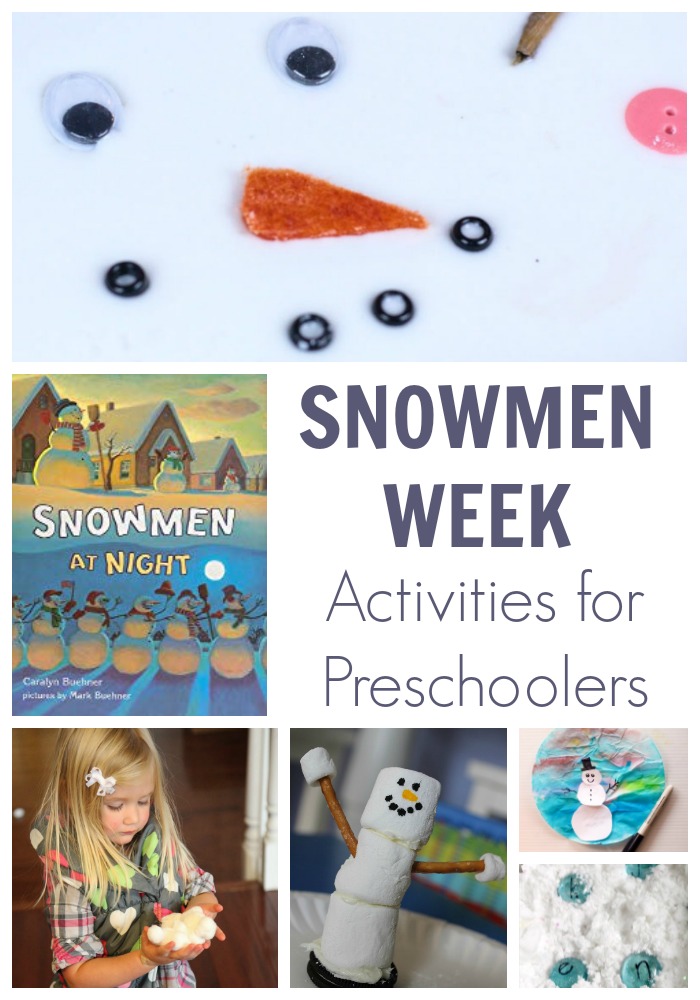 Virtual Book Club for Kids Featured Book Snowmen at Night
We have included Amazon links to the books we recommend. If you purchase via the books we may earn a small commission.
Our featured book this week is
Snowmen at Night
by Caralyn Buehner. It is one of a series of books featuring the lovable snowmen and a great read-aloud for you and your preschoolers to enjoy.
In the book, the little boy wonders why his snowmen are much different in the morning than when he headed to bed. So he imagines what they get up to once everyone is asleep. The illustrations and story are beautiful.
Weekly Virtual Book Club Plans
Get ideas for activities, crafts and recipes based on popular themes and featured books straight to your inbox each week to inspire you to connect and create with your children
Snowmen Themed Week for Preschoolers
We have selected 5 fun activities that are ideal for preschoolers and you to do together. These cover 5 key areas - sensory play, letters, math, science/cooking and art & crafts. You can pick 1 of the activities suggested below or all of them it's up to you.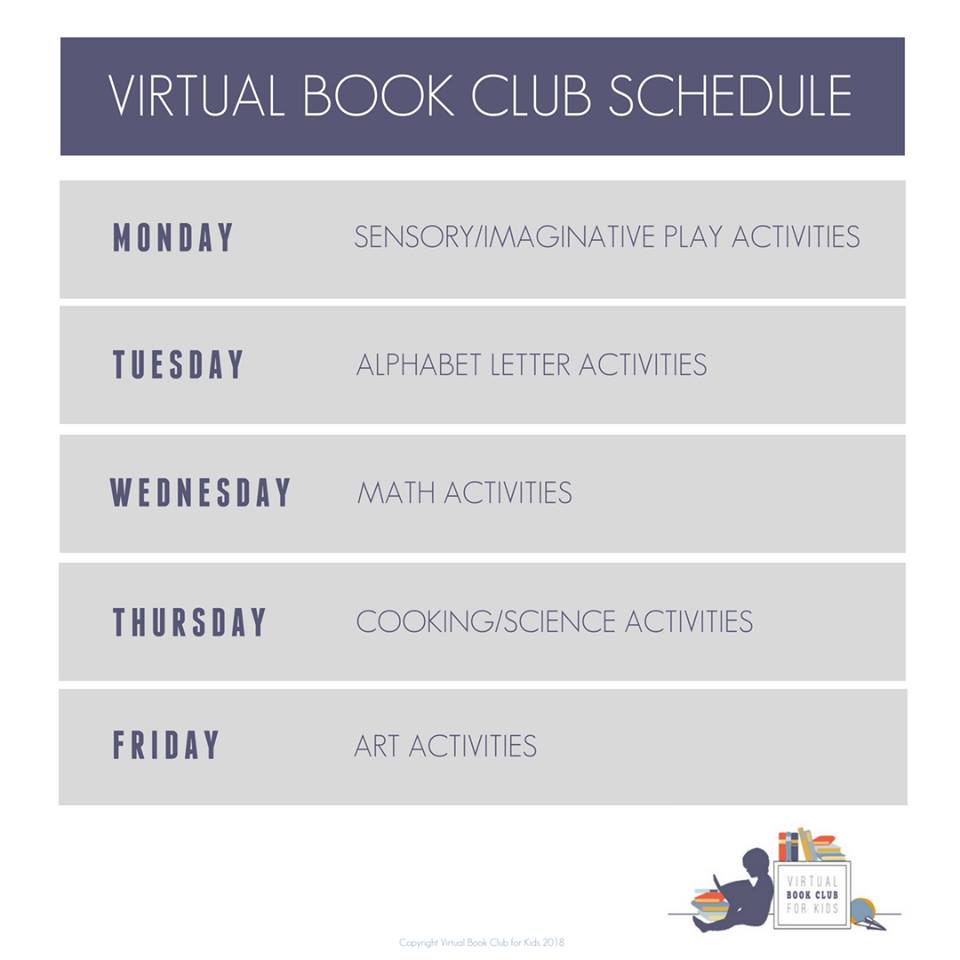 Snowmen at Night themed Sensory Play
For this week's Sensory Play we are playing with "Goo" or "Oobleck" it's such a fun material to use and this Melted Snowmen Sensory Play is fun.
To keep it going for the week just add more water if it starts to dry out.
Snow Themed Alphabet Activity for Preschoolers
Our suggested alphabet activity this week can be made with real snow or use the recipe in the post for this Snow Alphabet Hunt.
If you don't have the gems why not use some magnetic letters instead and hide them in the snow.
Math Activity for Snowmen Week
This number game with snowballs is a fun way to help your preschooler with counting but also to use up some of that excess energy that they have.
Snowmen at Night Snack to Make with Preschoolers
We love this snack ideal that is so simple that preschoolers will be able to make themselves and enjoy.
Put together your own snowmen snack. Either make it in 3 parts or make a "British" snowman which only ever has 2!
Snowmen at Night Art Activity for Preschoolers
Let your kids get creative with this Snowmen at Night Coffee Filter Art Activity.
This uses watercolors if you don't have any, then you can make up some liquid food coloring with water so it's diluted and use that instead!
More Snowmen Themed Books for Preschoolers
In our Weekly Activity Plans for Preschoolers we like to have a featured book, but so that you can either swap this out if it's not available or add to your book basket for the week we like to suggest a few others that we recommend.
[one_third_first]
[/one_third_first][one_third]
[/one_third][one_third_last]
[/one_third_last]
The Biggest Snowman Ever by Steven Kroll
All You Need for a Snowman by Alice Schertle
Sneezy the Snowman by Maureen Wright
Find Even More Snowmen Activities For Preschoolers
Why not head over to Pinterest and follow our Snowmen Week Activities Board for Preschoolers. It's full of fun ideas that are great for playing, learning, creating and having fun with your preschooler with this fun in addition to the 5 activities above.
[thrive_text_block color="purple" headline="Join Us Next Week for Virtual Book Club for Kids"]
Next week's theme is Snowflakes and we are featuring The Little Snowplow by Lora Koehler
[/thrive_text_block]
More Winter Themed Plans for Preschoolers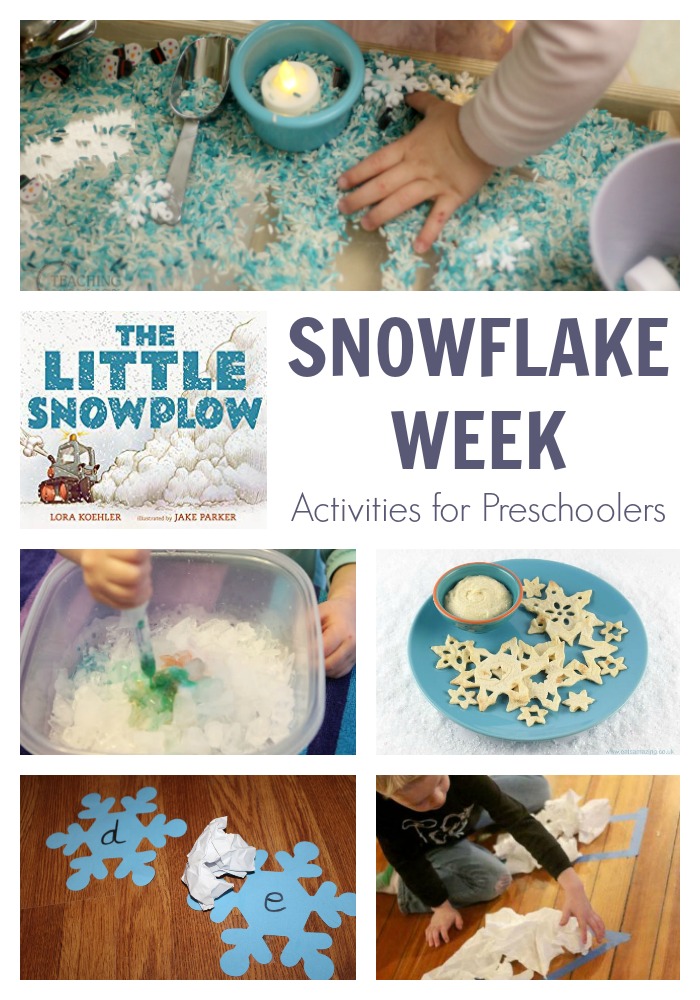 Match this Snowmen Theme for Preschoolers with our Snowflake Themed Week and do 2 activities per week instead of 1.