April Themes and Featured Books for Preschoolers
As March closes we think ahead to warmer weather and more sunshine and fun. April is the last month of our Weekly Planned Preschool Themes and Books but we have fun this year for you. As Easter is so late many of our themes are Easter and spring related although towards the end of the month we start to introduce some more summery ideas. So here we go our April themes and the featured teacher recommended books for preschoolers for the coming month.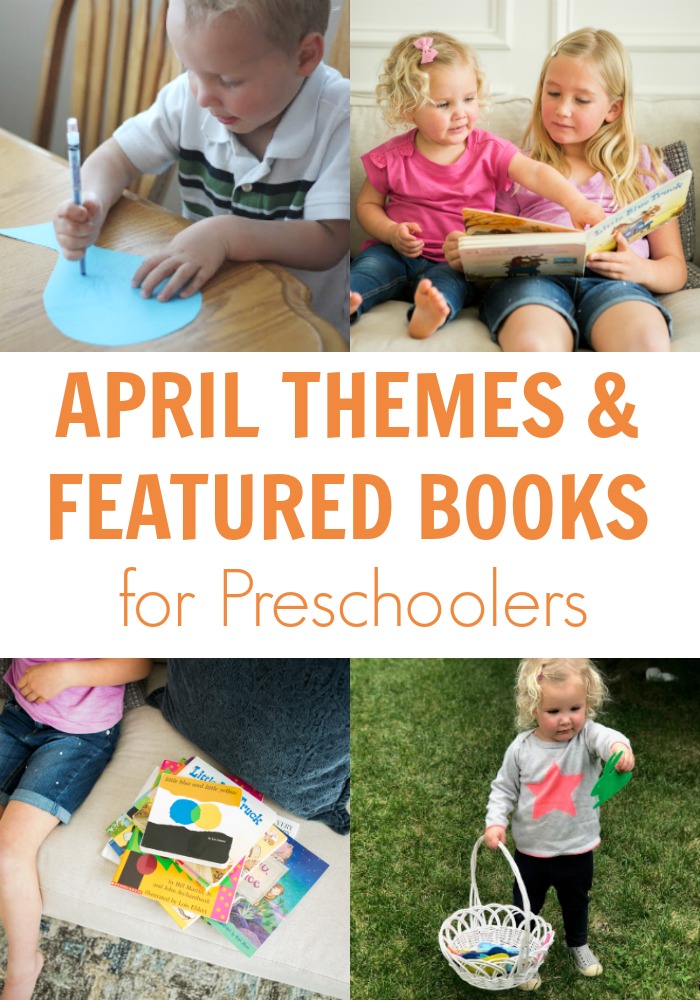 April Themed and Featured Books for Preschoolers
We have handpicked these themes to encourage you and your child to read, play, create, have fun and learn. All important skills for preschoolers and with our weekly activity plans for each of the themes we select 5 simple and easy to do activities that will encourage this and you can do together.
If you wish to receive our April Plans straight to your inbox week by week then please join our newsletter below.
AHOY MATEY!
"Talk like a Pirate" this September with this fun filled Pirate Themed Mini-Pack for Toddlers & Preschoolers
7 Fun Step-by-Step Activities to host your own week of Virtual Book Club for Kids at home with picture book recommendations, songs and rhymes plus a supply list making it possible to have a fun pirate themed week with your little ones
Weekly Virtual Book Club Plans
Get ideas for activities, crafts and recipes based on popular themes and featured books straight to your inbox each week to inspire you to connect and create with your children
Preschool Themes for April
So here we go our Preschool Themes for April 2019
We have included Amazon links to the books we recommend. If you purchase via the books we may earn a small commission.
April 1 ~ Bunnies
The featured book is Knuffle Bunny by Mo Willems
April 8 ~ Chicks
The featured book is Count with Maisy. Cheep, Cheep, Cheep! by Lucy Cousins
April 15 ~ Easter Eggs
The featured book is The Easter Egg by Jan Brett
April 22 ~ Earth Day
The featured book is The Earth Book by Todd Parr
April 29 ~ Fish
The Featured book is The Rainbow Fish by Marcus Pfister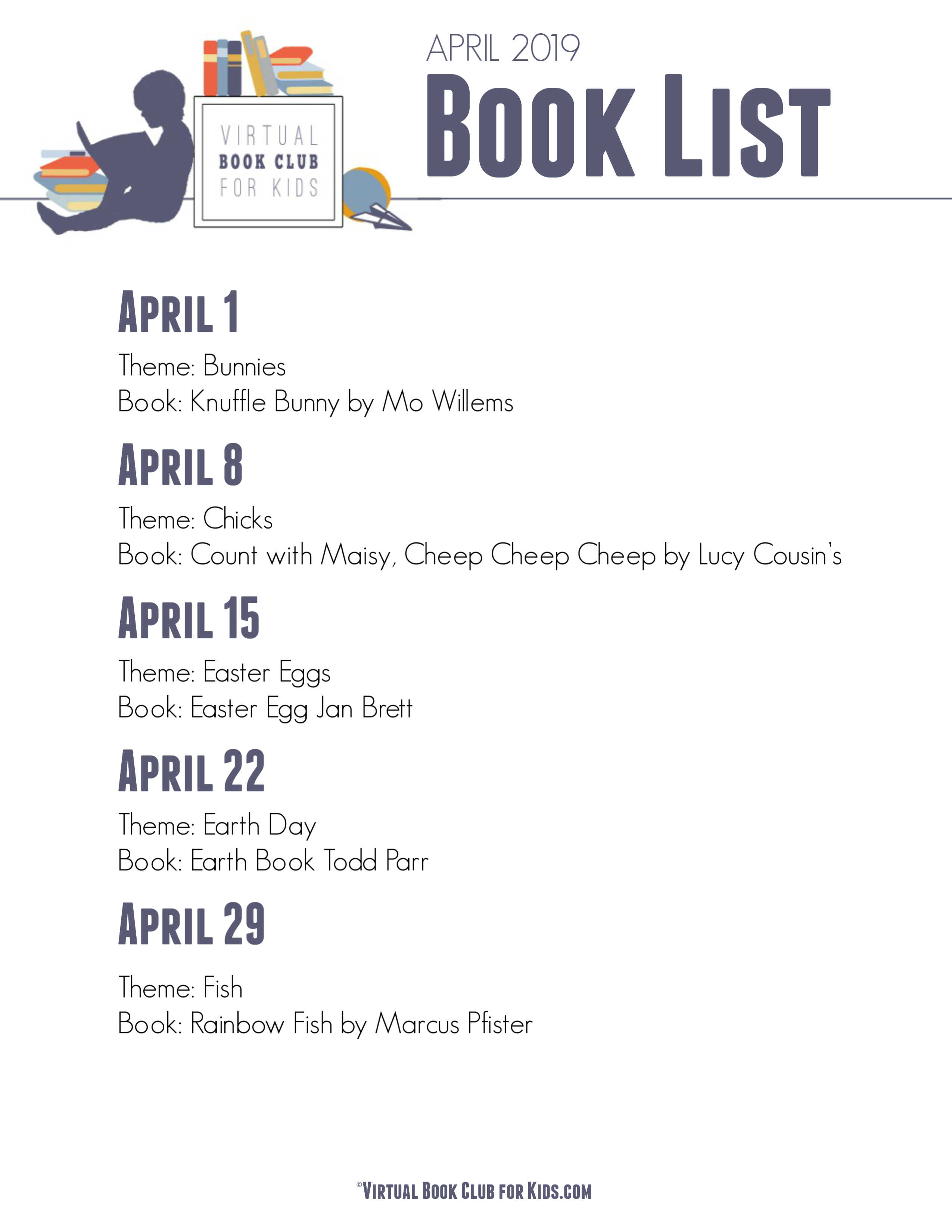 Download and Print out this month's Themes and Featured Books
Themes and Featured Books for Preschoolers
If you are looking for more inspiration of themes and activities then head on over to our Pinterest where you will find boards of ideas for preschooler inspired by themes we have covered over the years.
More Preschool Themes and Books for the "School Year"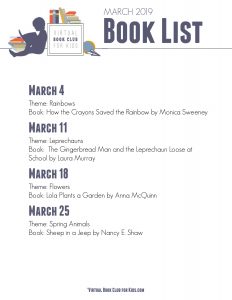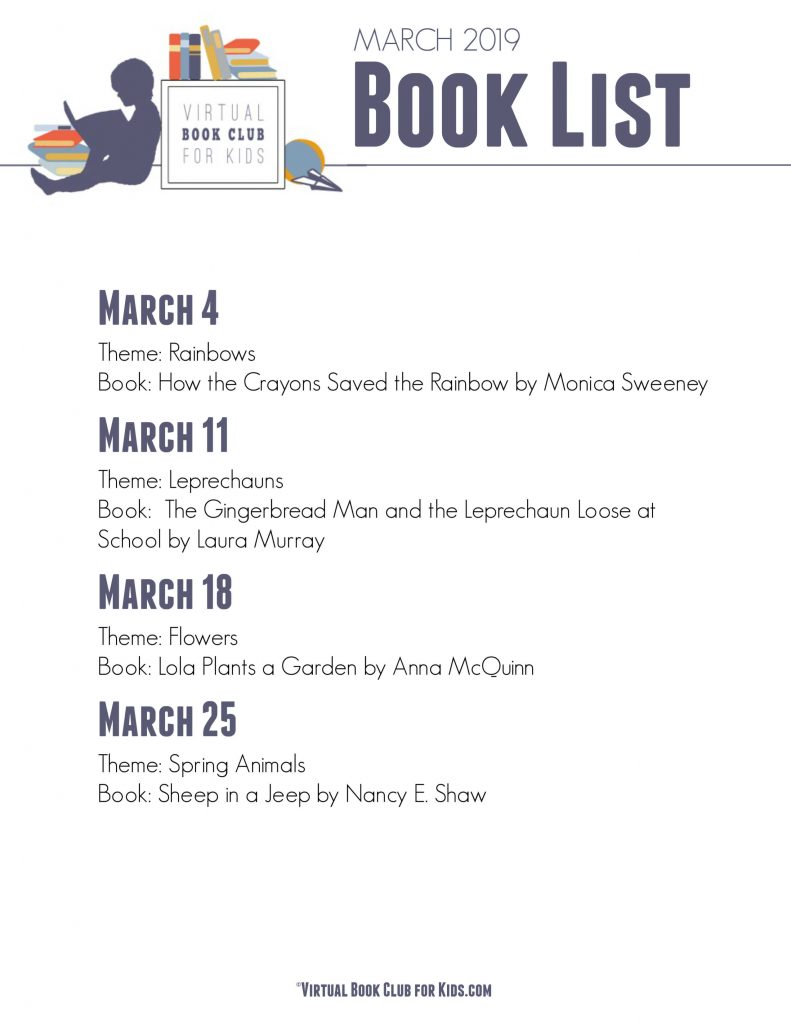 August/September Themes and Book Recommendations
October Themes and Book Recommendations
November Themes and Book Recommendations
December Themes and Book Recommendations
January Themes and Book Recommendations
February Themes and Book Recommendations
March Themes and Book Recommendations
Take a Peek at our Weekly Plans for Preschool here on Virtual Book Club for Kids